Four-Cheese Risotto with fresh Roasted Tomatoes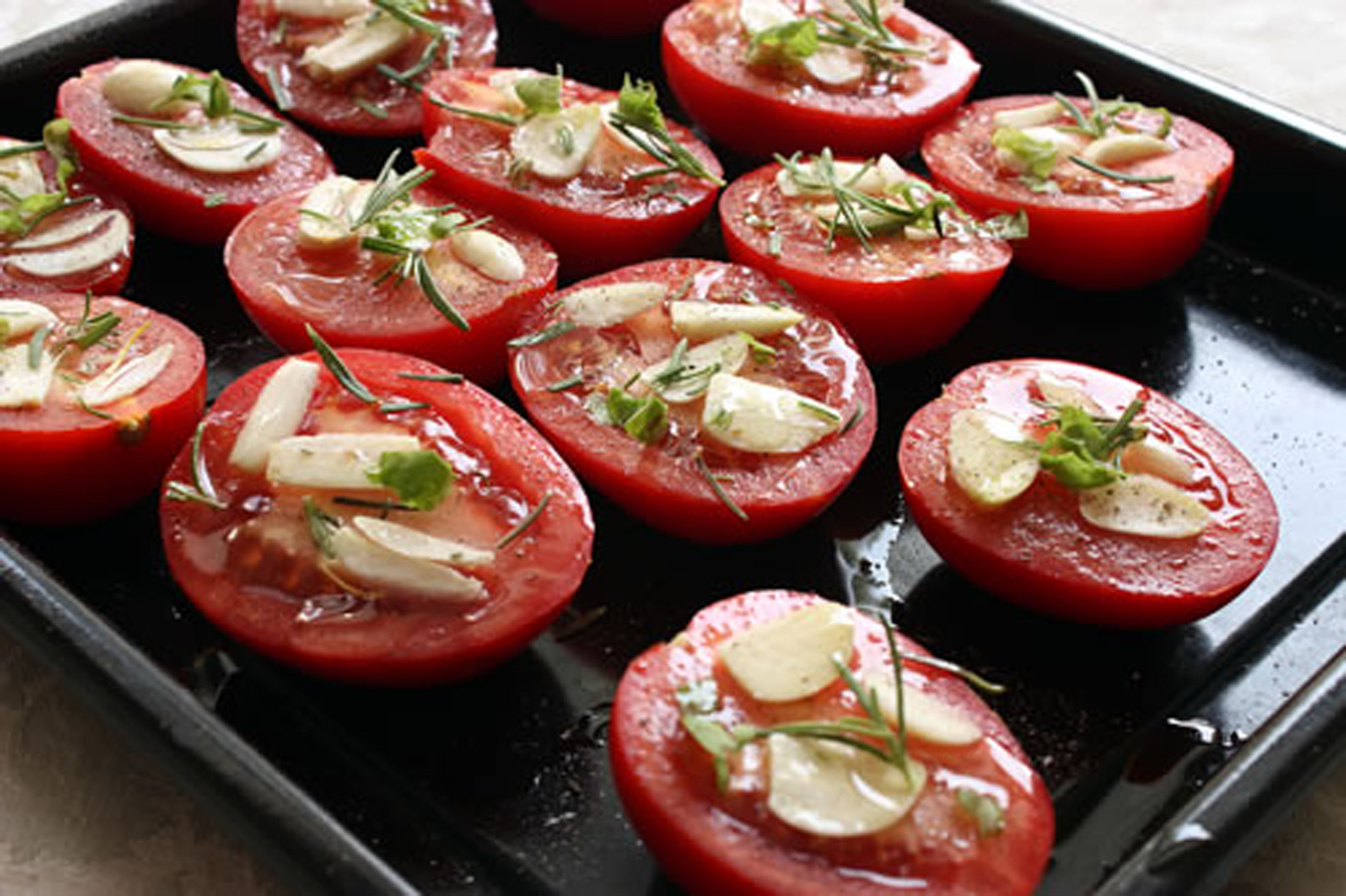 I'm far from vegetarian, but even for me there is nothing like roasted vegetables, especially tomatoes.  What better to go with them than a great risotto?  This recipe is very simple and takes less than an hour, although it does require some serious stirring.  It makes a filling meal or great side dish and the garlic-herb roasted tomatoes add a lot of flavor to the creamy cheesy risotto.  It is also very flexible, I used a prepackaged four cheese blend but sometimes use whatever cheeses I have on hand, a mixture of  fontina, mozzarella, Asiago, parmesan and/or Gruyère.
Ingredients:
6-8 Roma tomatoes sliced in half
2-4 cloves of garlic sliced very thinly
1 sprig of rosemary
Several tablespoons of olive oil
Salt
Pepper
Few leaves of Basil for garnish
one half onion chopped finely
1 cup arborio rice
5 cups chicken stock (or one cup white wine and 4 cups chicken stock)
2 cups four cheese blend or mix of shredded cheeses
1/2 cup cream
Procedure:
1.  Heat the oven to 400 degrees.  Lightly oil a large sheet pan either with olive oil or vegetable spray.
Place the tomatoes flat side up, add a few slices of garlic and a few bits of rosemary to each.  Place in the oven and roast for approximately 10-15 minutes, until they are soft and the garlic is slightly browned.
For the risotto:
Heat the broth to a simmer (I do it in the microwave but traditionally it is done in a separate saucepan).
Saute the onion in 2 tablespoons olive oil until soft but not browned.
Add the rice and stir until all the grains are coated with oil.
Add the wine first if using, then the remaining broth one cup at a time, stirring constantly and waiting for it to be absorbed before adding the next cup.
Keep stirring and adding until all the broth has been added, is absorbed and the rice is tender.  I find sometimes it takes a little more broth, sometimes a little less.  Be patient, it will take 20-30 minutes but it's worth it!
Add the cheese, stirring gently to melt.
Then add the cream to the consistency that you like.
Serve with the roasted tomatoes and a little fresh basil.