The Daring Cook's Challenge Edible Containers: Stuffed Meatballs in a Parmesan Crisp Bowl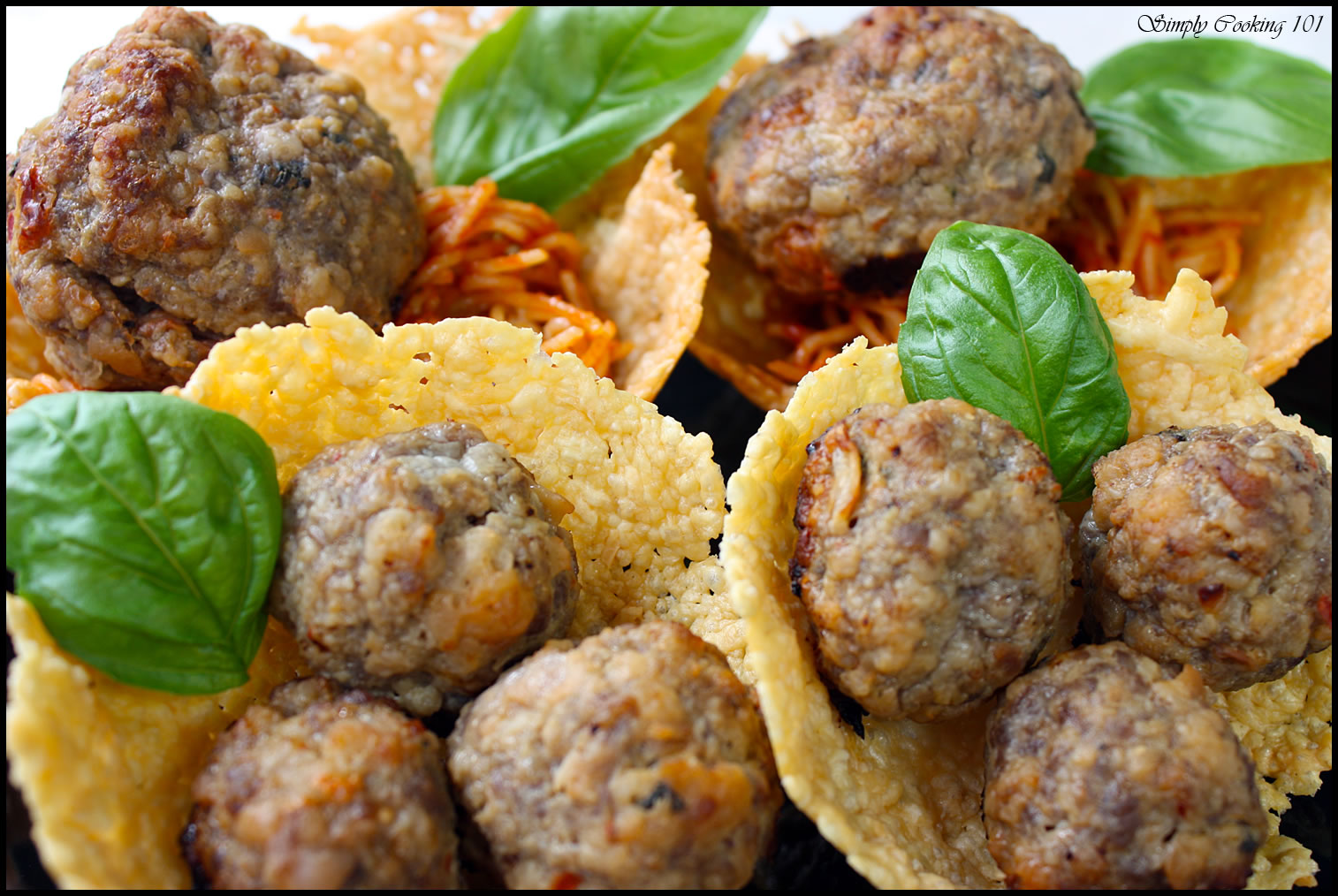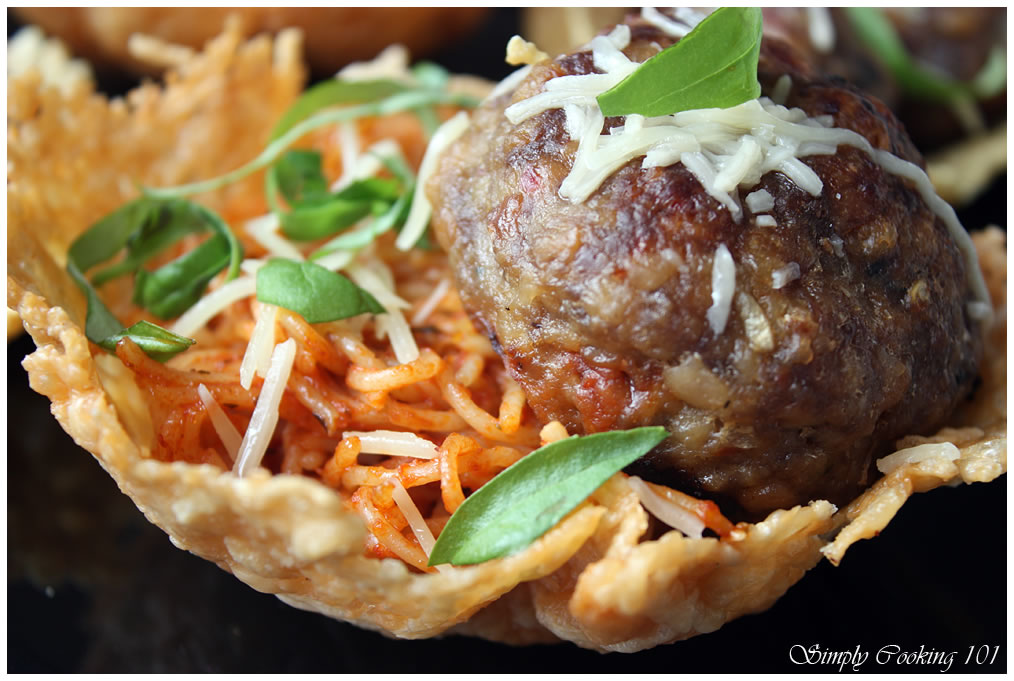 This month there was another great challenge to create something to serve in an edible container.
Renata of Testado, Provado & Aprovado! was our Daring Cooks' April 2011 hostess. Renata challenged us to think "outside the plate" and create our own edible containers! Prizes are being awarded to the most creative edible container and filling, so vote on your favorite from April 17th to May 16th at http://thedaringkitchen.com!
I chose to make a simple Parmesan Crisp bowl and fill it with stuffed meatballs.  I made two versions, one for an appetizer and one with spaghetti that could be served as a meal.  I thought both turned out well and would be great for parties as you could make the bowls and meatballs ahead then just reheat and assemble.
First I made the crisps which are really simple.
Place about 2-3 tablespoons of shredded Parmesan, depending on the size you prefer, spread into a circle.
Bake at 400 degrees for about 3-5 minutes until the cheese melts.
Remove from the oven and quickly (but carefully as it will be hot) place in small heat proof bowls molding to the shape of the bowl.  You can do this either inside or with the bowl upside down, I chose to do it on the inside.  I would only do a couple at a time because you have to work quickly the cheese hardens fast.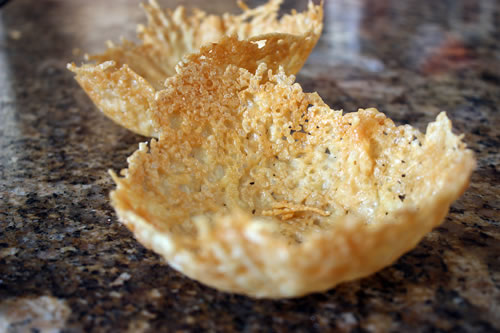 Let cool and pop them out (or lift them off) and set aside.
Next the stuffed meatballs:
Ingredients:
1/2 pound Italian sausage, casings removed (hot or mild as you prefer)
1/2 pound ground beef
1 cup bread crumbs (I used some really good but stale ciabatta rolls)
1 small onion chopped very finely
4 cloves garlic chopped very finely
3 tablespoons mixed fresh Italian herbs ( oregano, parsley, basil)
1 egg
1 cup milk
1 cup Pizza sauce (homemade or purchased)  You could also use spaghetti sauce but it might be a little thin.
1 cup shredded mozzarella
Procedure
Mix all ingredients except the pizza sauce and cheese in a large bowl.  Mix thoroughly, but don't handle more than necessary.
Make the balls:
Start by making a flattened round disk.
Add a small amount of pizza sauce.
Sprinkle with some cheese.
Make a second flattened disk and cover the filling.  Make sure and seal the edges well, then pick it up and roll (very) gently between your hands to round it out and make sure all the edges are sealed.
Place in a baking pan and bake at 400 degrees for about 20-30 minutes depending on how big you've made them.  I made two versions, one small for appetizers and one of large ones for the main dish.
To serve the appetizer size, just add 2-3 small meatballs to each bowl and sprinkle with some shredded Parmesan.  For a meal, serve a large meatball with a portion of your favorite spaghetti mixed with sauce in the bowl and sprinkle with some shredded Parmesan.