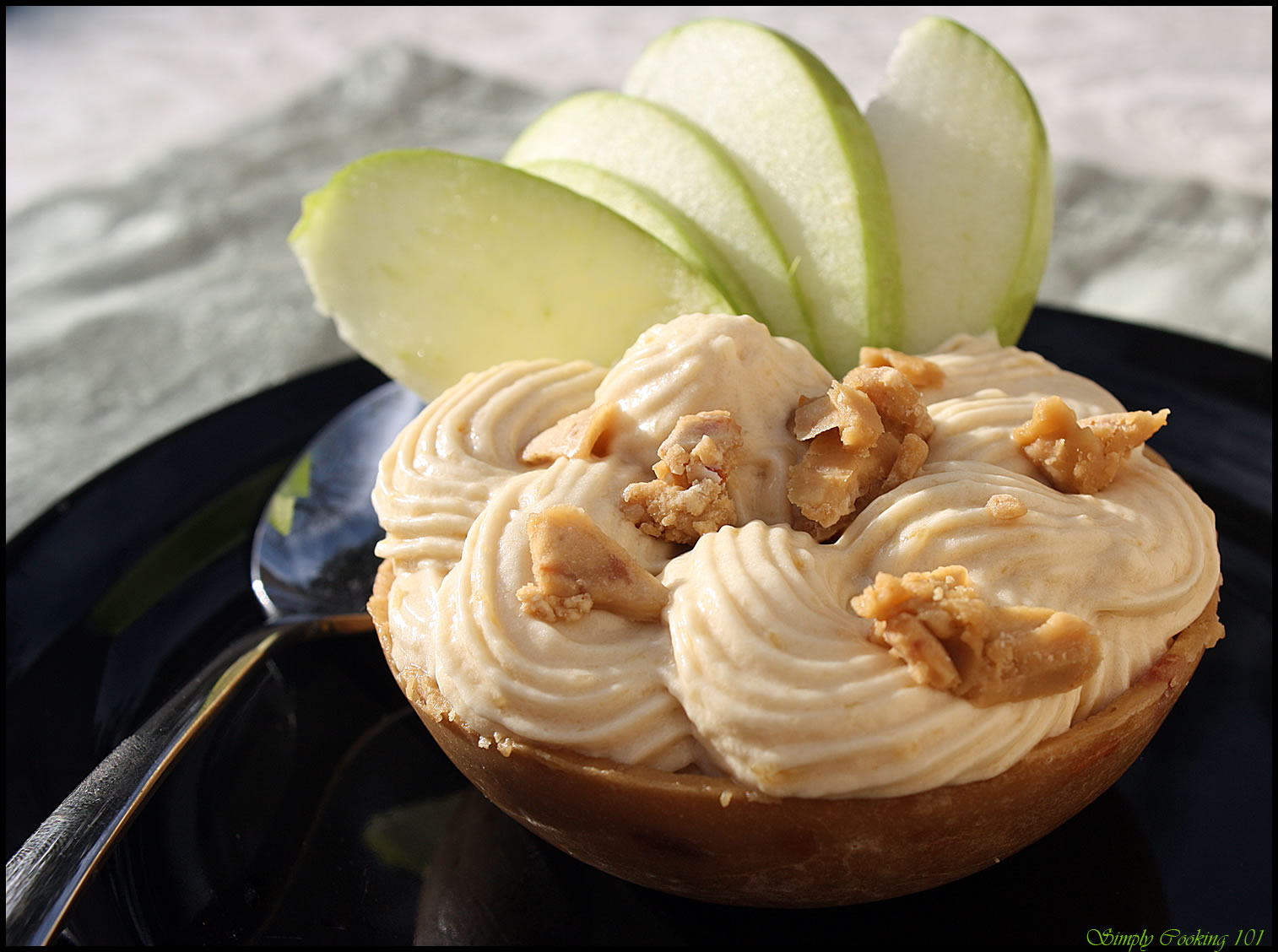 Daring Baker's Challenge: Maple Mousse in a Maple Syrup and Bacon Candy Bowl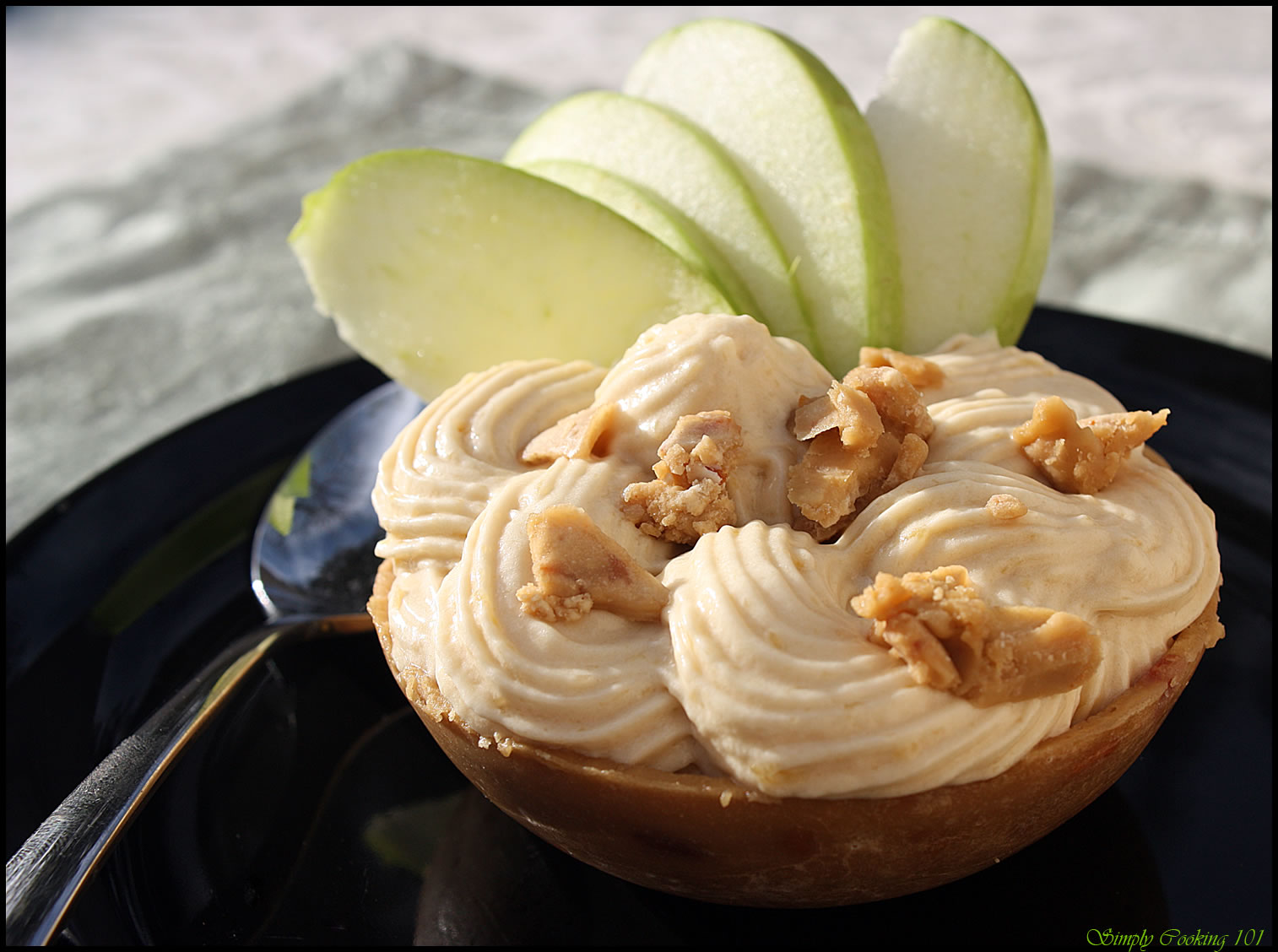 The April 2011 Daring Bakers' challenge was hosted by Evelyne of the blog Cheap Ethnic Eatz. Evelyne chose to challenge everyone to make a maple mousse in an edible container. Prizes are being awarded to the most creative edible container and filling, so vote on your favorite from April 27th to May 27th at http://thedaringkitchen.com!
My choice for the container was a maple sugar candy.  Growing up in a touristy area in the North, almost to Canada, every once in a while we would see maple sugar candy in the shape of maple leaves which was always a treat, so I decided that, along with a little bacon, would make a great container for the mousse. Making the candy was pretty simple, easier than I expected but making the bowls was a bit of a challenge.  For the mold first I chose a bowl that had a little lip in it which turned out to be not the best as it made it difficult to remove the candy and some of them broke.  Next time I used a nice smooth mold, although the broken pieces certainly tasted just as good were definitely not wasted!
For the candy containers:
Bacon Maple Syrup Candy
Ingredients:
1/2 pound bacon (you can use more or less to your taste)
2 cups maple syrup
Procedure:
Cut the bacon in to small pieces about 1/4 inch and fry until very crispy.  Drain on a paper towel.
Put the maple syrup in a large heavy bottomed saucepan.  It bubbles up a lot so use a bigger one that you would think.  The one I chose barely escaped overflowing.  Over medium high heat bring the syrup to a boil stirring occasionally. Boil until syrup reaches 235 degrees F (110 degrees C) on a candy thermometer.  Remove from heat  and cool to 175 degrees F (80 degrees C) without stirring, about 10 minutes. Stir rapidly with a wooden spoon  for about 5 minutes until the color turns lighter and mixture becomes thick and creamy – being impatient (lazy) I used a mixer which works a lot faster. Stir in the crisp bacon pieces
Pour into molds and set aside to cool.  You do have to work fairly quickly as it will start to harden fast.  I had prepared several sets of two small glass heatproof bowls with a light coating of vegetable spray, one on the inside, one on the outside.  I poured in the candy mixture in the bowls to about 1/2 full, then placed the second bowl on top, basically squashing the filling between the two.  I let that cool, then removed the candy from between the bowls.  After the first batch using the bowls with a little rim, I switched to bowls without rims and it worked out better, as did the ones I made using two silicone muffin pans.  It was ok though, I used the pieces of the ones that broke (that we didn't just eat) as a little garnish on top of the mousse.
Once cool, unmold candy. Store in airtight containers up to 1 month.
For the Mousse:
I used the recipe so graciously provided by Evelyne which turned out wonderfully.  I did end up with a double batch because I still had 2 cups of maple syrup on my mind from making the candy so I started with that and realized the mistake half way through.  I worked out fine though – there was mousse for all my friends!
Maple Mousse:
Ingredients:
• 1 cup (240 ml/ 8 fluid oz.) pure maple syrup (not maple-flavoured syrup)
• 4 large egg yolks
• 1 package (7g/1 tbsp.) unflavoured gelatine
• 1 1/2 cups (360 ml. g/12 fluid oz) whipping cream (35% fat content)
Directions:
1. Bring maple syrup to a boil then remove from heat.
2. In a large bowl, whisk egg yolks and pour a little bit of the maple syrup in while whisking (this is to temper your egg yolks so they don't curdle).
3. Add warmed egg yolks to hot maple syrup until well mixed.
4. Measure 1/4 cup of whipping cream in a bowl and sprinkle it with the gelatine. Let it rest for 5 minutes. Place the bowl in a microwave for 45 seconds (microwave for 10 seconds at a time and check it in between) or place the bowl in a pan of barely simmering water, stir to ensure the gelatine has completely dissolved.
5. Whisk the gelatine/whipping cream mixture into the maple syrup mixture and set aside.
6. Whisk occasionally for approximately an hour or until the mixture has the consistency of an unbeaten raw egg white.
7. Whip the remaining cream. Stir 1/4 of the whipped cream into the maple syrup mixture. Fold in the remaining cream and refrigerate for at least an hour.
8. Remove from the fridge and divide equally among your edible containers.
For presentation, I used a maple syrup candy bowl, some freshly sliced tart apple slices (dipped in lemon juice to prevent browning), filled with maple mousse using a piping bag, with a few sprinkles of the maple syrup bacon candy on top.