Valentines Day Meal: Chicken baked in pastry crust, pearl couscous in cream sauce and fresh asparagus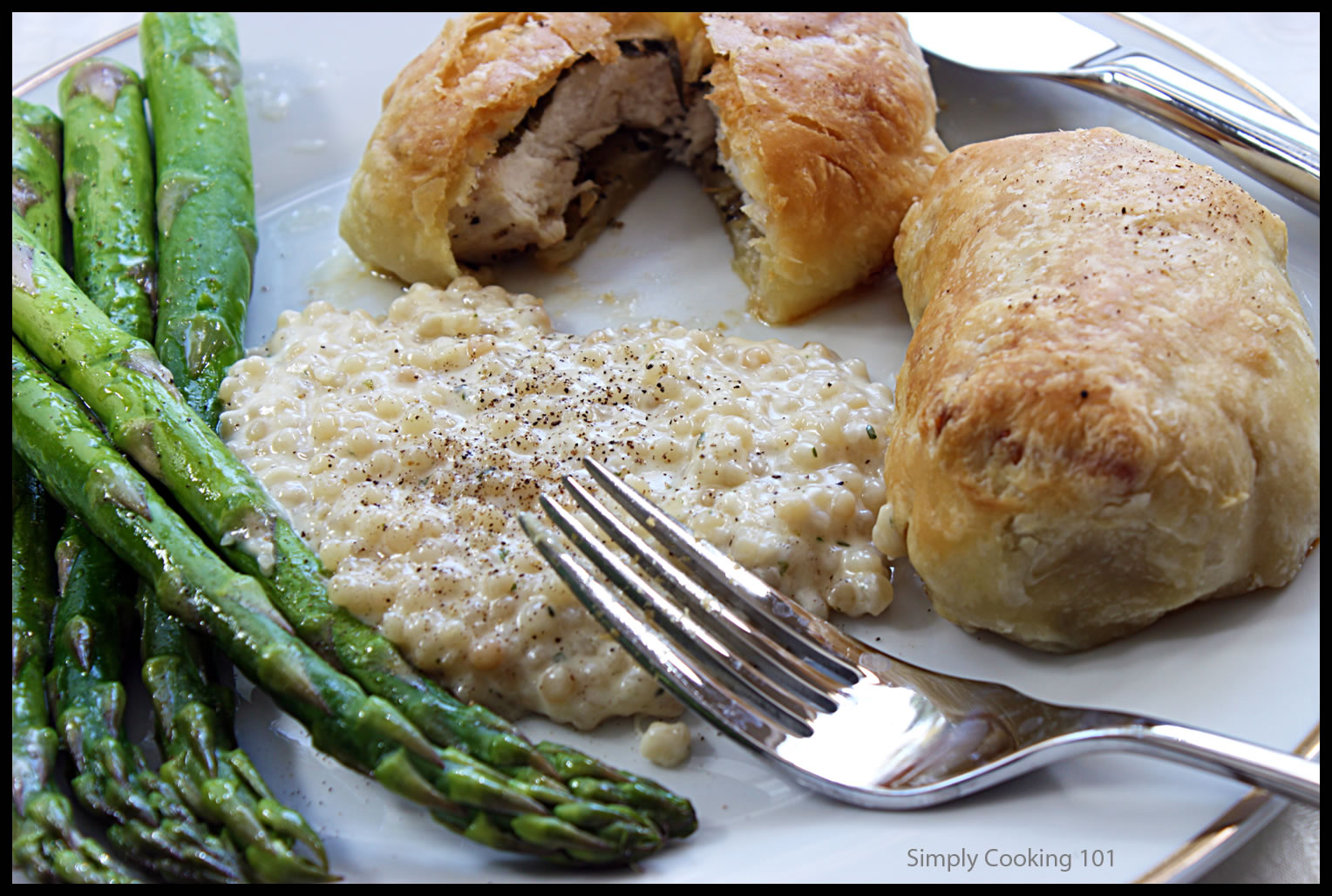 My Valentine has gotten used to being the test dummy, not being able to eat until the pictures are done, having holiday meals on days other than the holiday and best of all, cleaning up my endless messes, all with good humor and little whining so I was quite happy that this meal got the seal of approval!  It is fairly simple, not too many ingredients, doesn't take too long and didn't make that much of a mess but it was really tasty.  You can even do part of it ahead of time and be able to finish in less than an hour, with most of that just baking time.  The couscous and asparagus take less than 10 minutes so you can do the chicken ahead of time and just finish up while it bakes.  For dessert see my Tunnel of Fudge Mini-bundt cake recipe.
Ingredients:
4 boneless skinless chicken breasts
1 package puff pastry sheets
6 oz cheese Asiago and/or Gruyere
12 large fresh basil leaves
salt
pepper
1 Tablespoon Italian seasoning
First trim and cut the chicken breasts into approximately equal size pieces, 3-4 per breast and sprinkle with salt, pepper and Italian seasoning.
Heat a heavy skillet with 1-2 tablespoons olive oil until it is very hot.  Add the chicken and brown well on each side.  It won't take long, a minute or two on each side.  Don't cook it through, just get it nice and brown and don't crowd the pan, do two batches if it doesn't fit nicely.  Once the chicken is browned, set it aside in a bowl.
While the chicken is browning, slice the cheese into strips about 2 x 2 or 2 x 3  inches.  It doesn't have to be exact.
Prepare the dough by unwrapping.  It usually comes with two sheets, each folded over into three parts, so after it is flat, cut each sheet along each fold and once in half to make a total of 12 pieces.  Place a slice of cheese in the center of each piece.
Add a basil leaf.
Top with a piece or two of chicken depending on the size, make sure you leave enough room to fold over the dough.
Fold the dough up over the filling – it doesn't have to be that pretty on the bottom, just make sure it is sealed well or the cheese will leak out.
Place on a baking sheet, flipped over so the bottom is the wrapped portion and the top is flat and bake at 350 degrees for 40 minutes until the crust is browned.  If you want to do this ahead, just stop before the baking and wrap the pan in plastic.  You may have to add 5-10 minutes to the baking time if you refrigerate.
About 30 minutes after you put in the chicken, start the couscous and asparagus.  For the couscous, here is the recipe, which takes about 10 minutes.
For the asparagus, trim a bunch and place in a microwave safe bowl with about 1 teaspoon of water.  Microwave for 2 minutes.  Heat a skillet over medium heat with 1 tablespoon of olive oil and 1 tablespoon of butter.  Add the asparagus and cook for 3-5 minutes, rolling them over occasionally, depending on how crisp you prefer.