Iron Skillet Steak with Basil Cream Sauce – sometimes the old fashioned way really works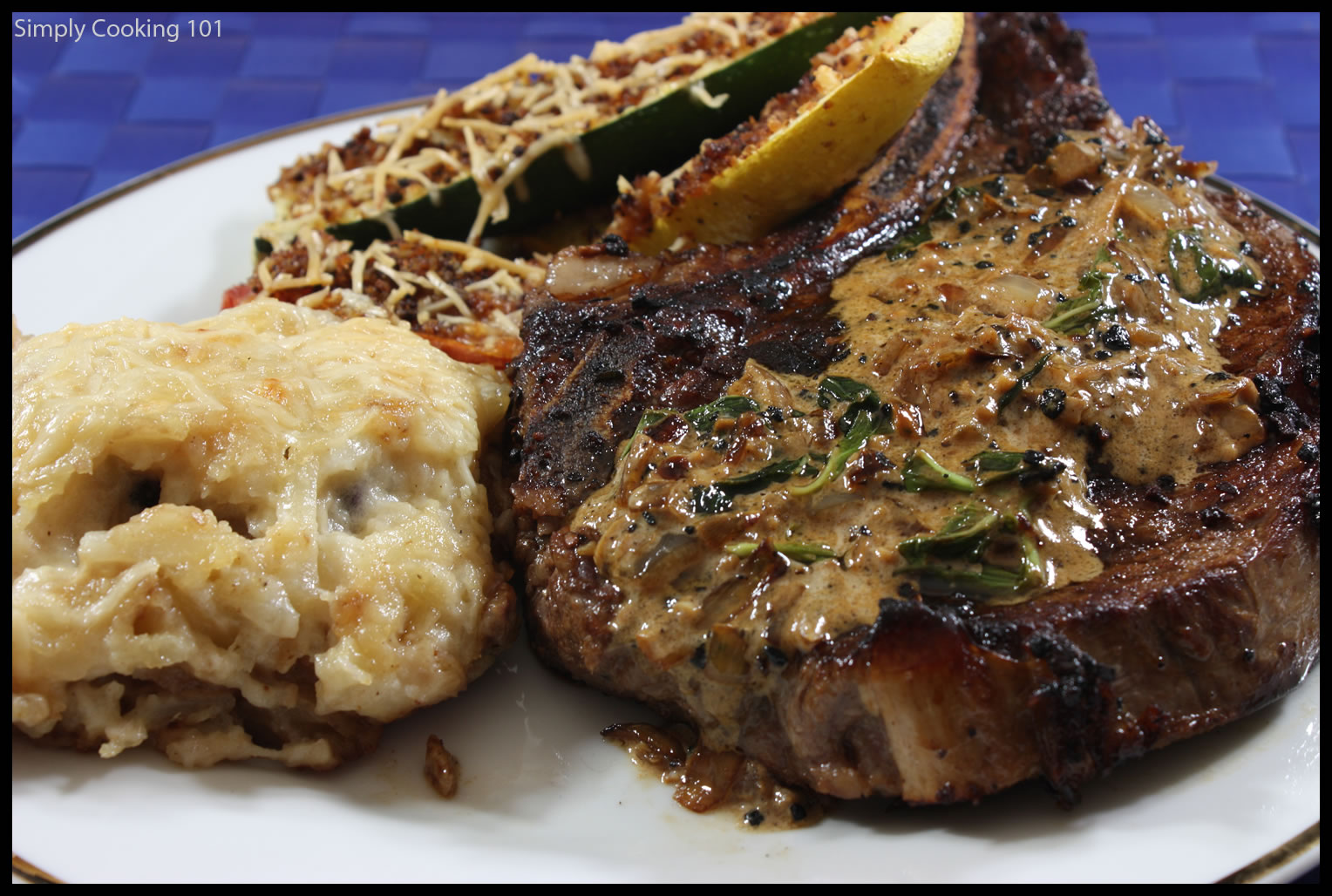 As I have mentioned before, I love my cast iron skillet rediscovered a couple of years ago when husband unexpected brought one home.  Our weather is pretty much grill friendly all year, but I also really love gravies and sauces so I decided to go with the pan for some steaks this time.  I also roasted some vegetables (very simply yellow squash, zucchini and Roma tomatoes, cut in half, drizzled with some olive oil and sprinkled with garlic bread crumbs and shredded Parmesan) and did a recipe test of Cook's Country Delmonico Potatoes with some small multi-colored potatoes.  The potatoes turned out well and I was pleased with the mult-color.
For the steaks:
2-4 steaks – whatever kind you prefer
4 tablespoons olive oil
4 tablespoons garlic minced (I always use lots of garlic feel free to use less if you prefer)
1 tablespoon Worcestershire sauce
1/4 cup fresh basil leaves torn into small pieces
1 small onion chopped finely
1/2 cup heavy cream
Montreal Steak Seasoning or salt and pepper
First:
In a large glass baking dish lay the steaks flat, sprinkle with the seasoning salt, drizzle with  1 tbsp olive oil, spread 1/2 the garlic on the steaks, splash with Worcestershire and sprinkle with 1/2 the basil.  Turn them over and do the same on the other side.  Cover with plastic wrap and leave out for 1/2 hour.  Meat will cook more evenly if it is closer to room temperature.
Next:
Add 1-2 table spoons olive oil to an iron skillet over high heat until it is shimmering and really, really hot.
With a spatula push the garlic and basil off the steaks and reserve in the pan for the sauce (otherwise it will burn).
Place two steaks in the pan, don't crowd them or they won't brown as well.
Cook about 4 minutes on each side for medium on a fairly thick steak, more or less to your taste and the thickness.  They should have a really nice brown crust and be at least 120 degrees when tested with a thermometer.  Remove the steaks from the pan and place under a foil tent to rest.  If you are doing more steaks, repeat this.
When you've finished the steaks, add the onions to the pan and cook them until they are soft and  brown, then add the reserved marinade from the baking pan.  Cook briefly, for 1 minute or so to prevent the garlic and basil from burning, then add the cream and cook for another minute or so.  Check the plate the steaks are resting on and if there is any juice, add that to the sauce.
Serve the steaks with some of the sauce.