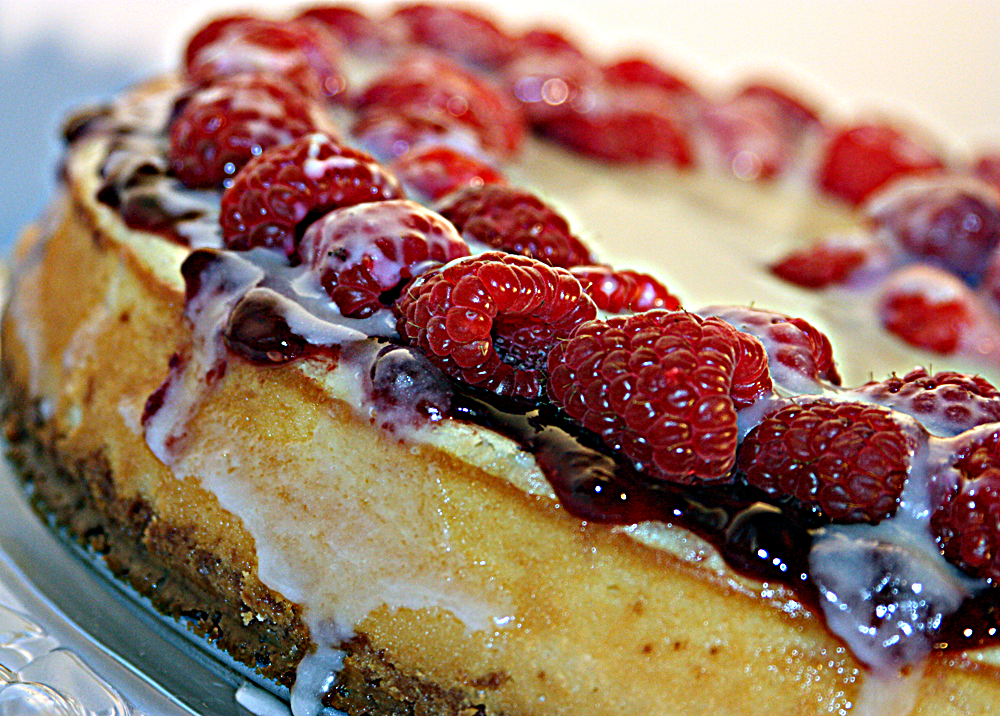 White Chocolate Cheesecake with Raspberry Topping and White Chocolate Glaze – disappeared before morning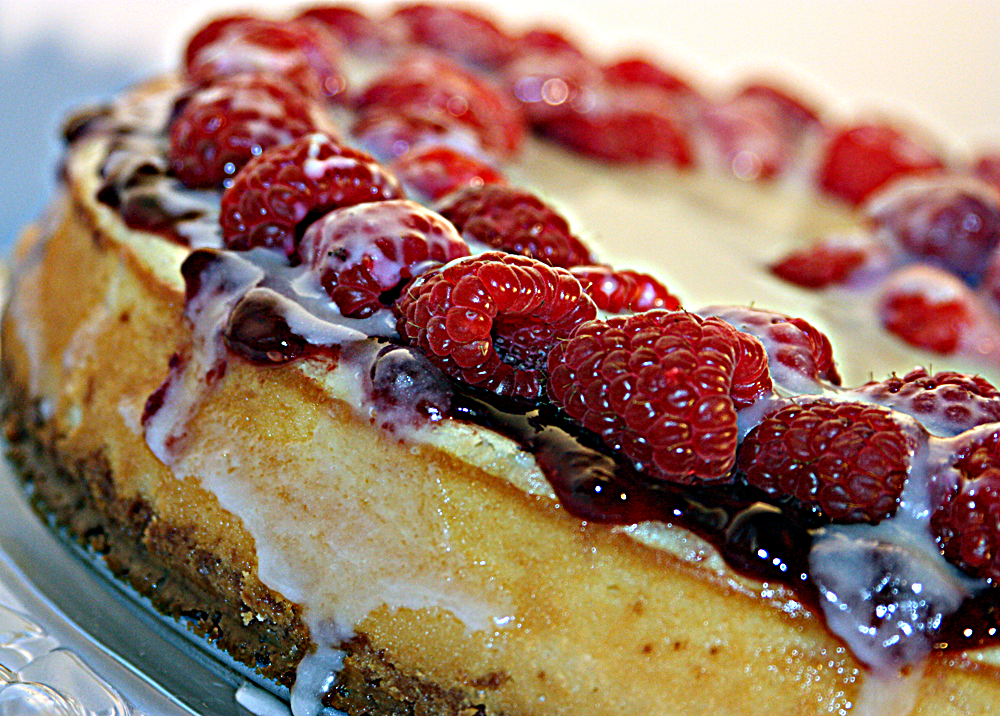 I made this as we were having some friends over for dinner. I took these before the guests arrived, intending to take some pictures of individual slices later (there were only 5 of us so I assumed there would be plenty left). However college son had a couple of his friends over later to watch a movie after I had gone to bed and apparently in dire need of "good snacks" they devoured the rest of the cheesecake. I thought it turned out well, and apparently the boys agreed. When I walked down in the morning to start working on the photos, there was nothing but a few crumbs left on the plate.This was inspired by a recipe I found on BigOven.com by jkrutherford. I modified it somewhat, and used my own topping instead of the strawberry glaze it suggested.
White Chocolate Raspberry Cheesecake
CRUST
1 1/4 cup Shortbread Cookie Crumbs
1/4 cup Almonds finely ground
2 tsp Sugar
1/2 tsp Almond Extract
3 tsp Butter melted
CHEESECAKE FILLING
6 oz White chocolate (chips or chopped)
32 oz Cream cheese softened
5 large Eggs room temp
3/4 cup Sugar
3 tsp All purpose flour
1 1/2 tsp Almond Extract
TOPPING
1 cup Raspberry jam
12 ounces white chocolate (chips or chopped)
1 cup heavy (whipping) cream
2 pints fresh raspberries
Procedure
CRUST
1 In the bowl of a food processor, finely grind the almonds, then add the shortbread cookies pulsing until crumbs. Add the sugar and melted butter pulsing until mixed.
2 Place the mixture in the bottom of a 9 inch spring form pan, using a small cup to press them flatly to the bottom.
3 Bake at 400 degrees for 5-6 minutes. Remove from the oven and grease the sides of the pan lightly or spray with vegetable spray.
FILLING
1 Melt and cool the chocolate. Mix together the cream cheese and add eggs one at a time. Add the sugar, flour and almond extract.
2 With mixer on low, slowly add the chocolate and mix well.
3 Pour into the pan and bake at 325 degrees for forty minutes or until the edges are firm but the center is still a little soft. Allow the cheesecake to cool in the oven with the door open for 15 minutes, then at room temperature for at least one hour. A sudden temperature change will cause cracking so cool it gradually.
TOPPING
1 Microwave the whipping cream to just under a boil, about 1 minute, then pour over the white chocolate, stirring until it forms a smooth sauce. Set aside, it will thicken as it cools.
2 Microwave the jam for about 1 minute, just until it warms enough to pour.
3 Pour the jam over the cheesecake in an even layer.
4 Arrange the fresh raspberries on top of the jam in whatever design you like.
5 Pour or drizzle the white chocolate glaze over the top of the berries. There will be plenty left to put on the serving plate.