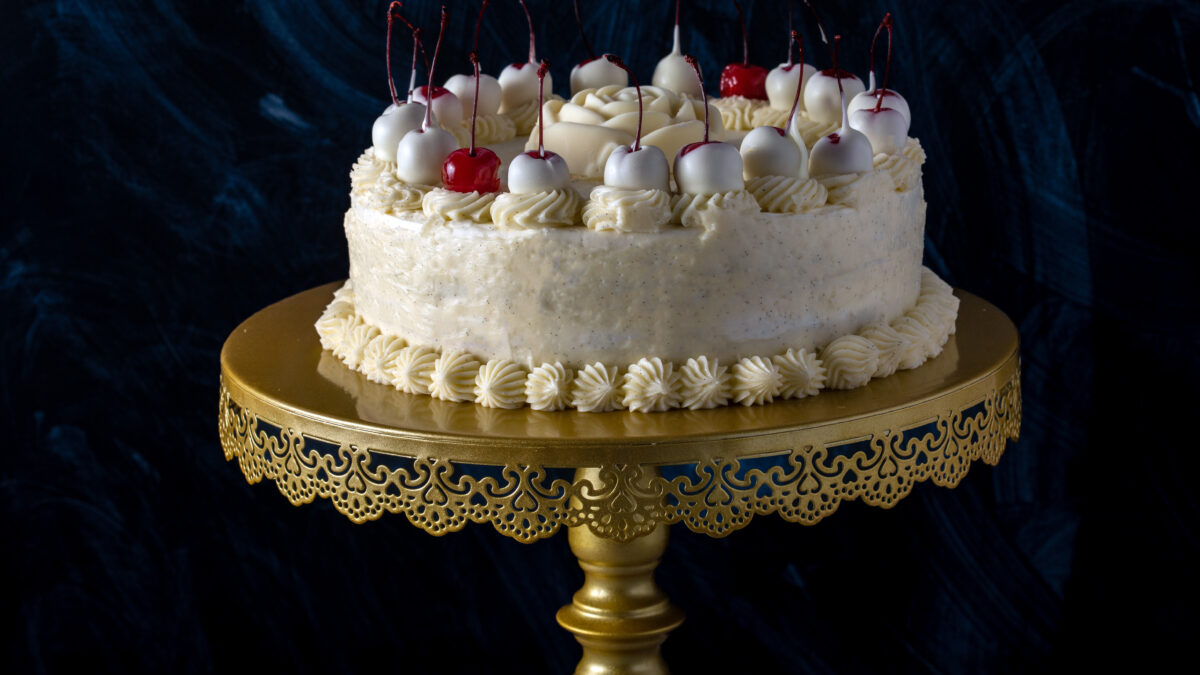 Vanilla Cherry Almond White Chocolate Iced Cake
This was a delicious change from the chocolate birthday cakes the family usually requests. The cake is quite dense, similar to a pound cake with lots of vanilla and almond flavor. With white chocolate mascarpone icing and homemade cherry jam and white chocolate dipped Marchino Cherries on top it was full of flavor.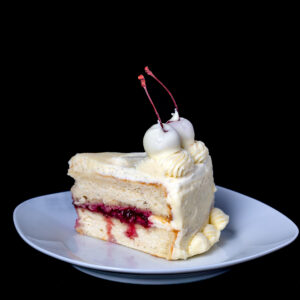 Cake
3 Large eggs
2 tsp. (8g) vanilla extract
2 Vanilla beans scraped
2 tsp. (8g) almond extract
⅓ c (73g) milk
1 cup (242g) sour cream or plain Greek yogurt
2 ½ c (285g) cake flour
1 ½ c (300g) sugar
2 ½ teaspoons (12g) baking powder
½ teaspoon (3g) salt
1 ½ sticks (12 T) (170g) unsalted butter, slightly softened
Preheat oven to 350 degrees
Grease and flour two 8 x 2 inch pans
In a small bowl, whisk together eggs, vanilla, vanilla caviar, almond extract, milk, and sour cream or Greek Yogurt.
Mix the dry ingredients (cake flour, sugar, baking powder, and salt) in the mixer for 30 seconds.
Slowly add the pieces of butter a few at a time while the mixer is on medium speed. Beat for approximately 1 minute or until the dry ingredients are crumbly like coarse sand.
Slowly add ½ the egg mixture on low speed, increasing to medium speed for 2 minutes — the batter will be thick and fluffy. Scrape the bowl and add the remaining egg mixture and beating for 1 minute. The batter will still be thick and when baked the cake is dense, almost like a pound cake.
Bake at 350 degrees for 35 minutes or until a toothpick inserted in the center comes out clean. Let the cake cool in the pans 10 minutes before inverting to cooling racks.
Filling
Cherry Jam (homemade or store bought. I made homemade with 2 vanilla pods cut and scraped and added while the jam boiled)
ICING (Royal Icing Buttercream with white chocolate)
Meringue Powder. 2 tablespoons + 1.5 teaspoons.
Powdered sugar. 1 pound or 16 oz.
Water. 6 to 8 tablespoons.
Unsalted room temperature butter. 1 ½ lbs (6 sticks)
Mascarpone 8 oz
Vanilla extract. 2 teaspoons.
Vanilla pods 2 scraped
Almond extract 1 teaspoon
White chocolate 4 oz
Combine meringue powder, powdered sugar, and 6 tbsp water in a mixing bowl with a paddle attachment. If it's still crumbly add another tbsp or two of water.
Mix for 5 mins to create a royal icing.
Once combined, add in butter in tablespoon sized chunks then mascarpone, almond extract and vanilla and mix on high for 15-20 mins until blended and very smooth. It may even take longer if your mixer isn't powerful. It may look lumpy for a while but keep beating and it will come together. When it is smooth, melt the white chocolate, cool slightly and add slowly with the mixer running and mix until blended.
ASSEMBLY
Fill layers with cherry jam and frost and decorate as desired. White chocolate dipped sweet or maraschino cherries make a nice topping. The rose in the middle was made with a silicone mold and melted white chocolate.