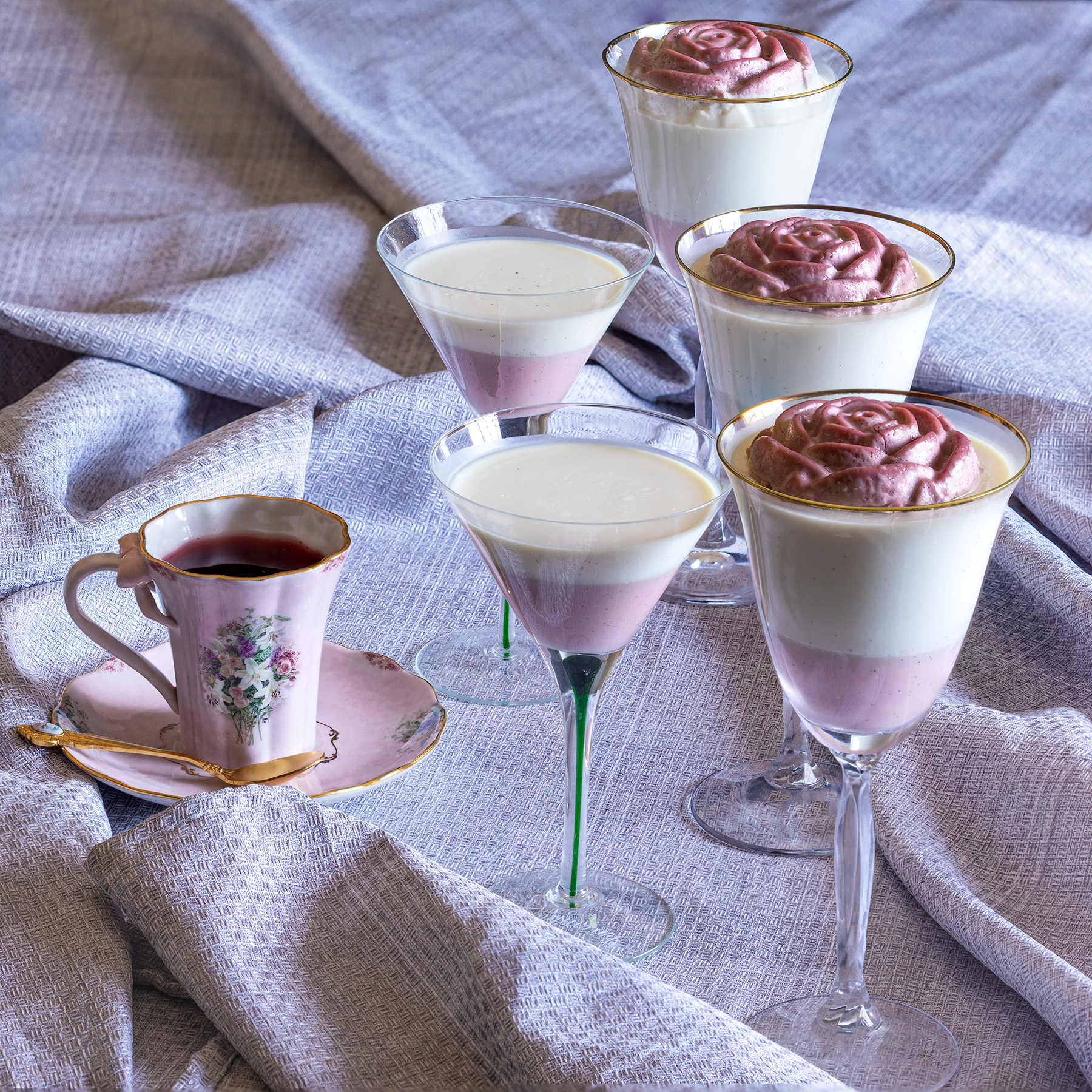 Vibrant Hibiscus and Vanilla Panna Cotta
Servings
8
Active time:
30 minutes
Ready In:
6 hours and 30 minutes
Good For:
Dessert
About this Recipe
I love the color and flavor of hibiscus tea and I also am a big fan of panna cotta so the combination seemed perfect.  I used my fancy glasses again.  I don't get many chances and it really makes a beautiful presentation.  Ramekins or any small bowls would work.  For the decorations I added a small amount of extra gelatin and used a silicone mold.  You could easily skip that and just layer the vanilla and hibiscus.
Ingredients
For the hibiscus layer:
1/2 cup dried hibiscus flowers
3 cups heavy cream
2 vanilla beans or 2 teaspoon vanilla extract
1 Tbsp powdered gelatin (1/2 tsp additional if making molded decoration)
1 cup milk
1/3 cup honey
pinch of salt
For the vanilla layer:
3 cups heavy cream
2 vanilla beans or 2 teaspoons vanilla extract
1 tbsp powdered gelatin
1 cup milk
1/3 cup honey
pinch of salt
This is made in two batches starting with the hibiscus.  This will provide 6-8 generous portions depending on the container you use or can be halved if you need only 4 portions or want just the hibiscus panna cotta.  The milk/cream proportion provides a really rich, creamy version.  If you prefer you can adjust it to a lighter version with more milk and less cream so long as the total volume stays the same.  I've tried all milk though and it was disappointing.  Also the hibiscus might curdle straight milk so only steep that in cream.
Step by Step Instructions
Step 1
Pour cream into a heavy saucepan with the dried hibiscus flowers and split vanilla pods.  Stir over medium heat about 5 minutes until the cream is warm.  Don't let it boil. Turn off the heat and let the hibiscus and vanilla beans steep in the warm cream stirring occasionally for 10-20 minutes until you get a nice bright pink color.
Step 2
Sprinkle the gelatin over the milk in the measuring cup and let it stand 3 to 5 minutes. Pour milk and gelatin into the steeped cream and add the honey and salt.  Stir over medium heat about 5 minutes until the gelatin dissolves.  Don't let the mixture boil.
tep 3
Remove from the heat and strain out the hibiscus flowers and vanilla beans and pour into your glasses/ramekins as a first layer.  You can make the layers straight or place them at an angle like the Cranberry Pistachio Panna Cotta picture above.  Refrigerate for 30 minutes while you make the vanilla layer.
If you want to use some of the mixture in decorative molds pour 1/2 into your glasses/ramekins.  Sprinkle an additional 1/2 teaspoon of gelatin over the remaining mixture and stir over medium heat until the gelatin dissolves.  Pour into silicone molds and refrigerate until set, about 6 hours.
Step 4
For the vanilla layer use the same method but without the hibiscus flowers.  When finished, let it cool for about 10 minutes, then pour over the hibiscus layer which should be slightly firm so the layers don't mix.