Lemon Basil Olive Oil Muffins – taste great and relatively healthy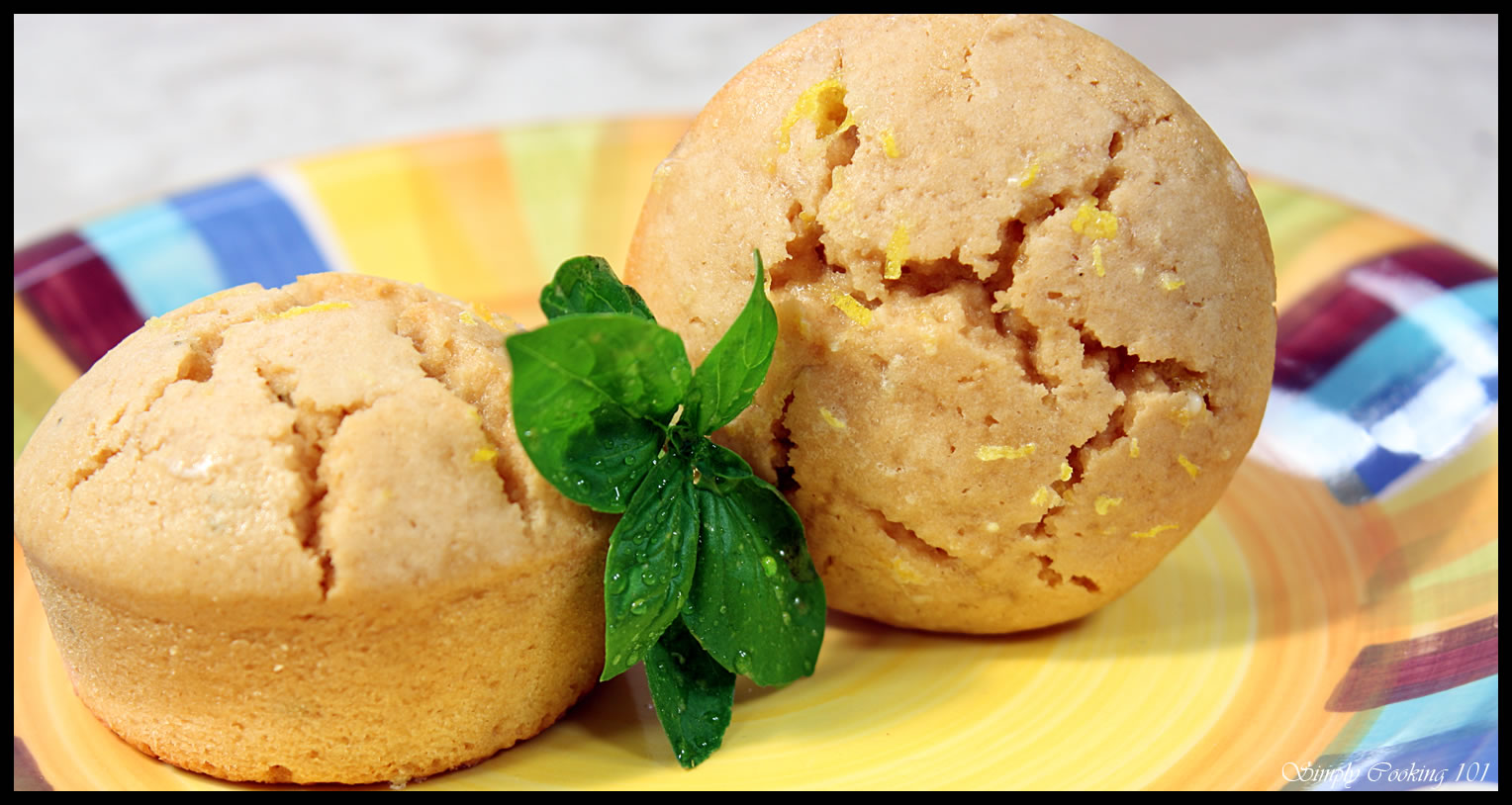 So far I've been dismal in my attempts to be more healthy but today I made progress and it wasn't even painful.   Don't worry, I'm not up to tofu yet and my "no carb left behind" lifestyle will surely take time to reform but I'm making baby steps.  These muffins are really good and an improvement over my usual; by my standards these are positively healthy with eggs for protein, olive oil not butter, not too much sugar (which you could replace with Splenda) and whole wheat flour.  Of course, nobody can expect miracles overnight so I stuck with real sugar and a "white whole wheat" from King Arthur Flour.  According to the package it is "100% of the wheat germ and bran" with a "lighter color and milder flavor" which seemed like a good thing for a lemon theme.  They are not "cakey" but more dense, like the texture of a corn muffin but without the corn flavor.  They are sweet enough to eat for breakfast, but not so sweet you couldn't serve with a meal, especially if you leave off the glaze.
The ingredients are:
4 cups whole-wheat flour
3 teaspoons baking powder
1/2 teaspoon salt
2 cups sugar (or Splenda)
4 lemons, zested and juiced
1/2 cup extra-virgin olive oil
6 eggs
1 Tablespoon fresh basil chopped finely
1/2 cup powdered sugar
Pre-heat the oven to 375 degrees.
1.  Mix the flour, baking powder and salt in a large bowl and set aside.
2.  Zest and juice the lemons.  Use the zester for one lemon and the microplane for three.  Reserve the juice and zest (fine) of one lemon for the glaze.
3.  In the mixing bowl add the sugar and lemon zest and add the olive oil mixing on high speed.
4.  Add the eggs one at a time.
5.  Add 1/2 the flour mixture, then half the lemon juice mixing on low speed.  Then add the remaining flour mixture and juice.
6.  Add the basil and mix well.  Of course you could leave this out, but it is surprisingly good, just enough to taste but not overpowering.  You may have to scrape some lemon zest off the beaters, I find it best to use a spatula to do a final mix to make sure everything is well-distributed.
7.  Place the batter in the muffin tins.  I used mini-muffins and muffin top pans because I like the crispy outside.
Bake for 20-25 minutes until a toothpick stuck in the middle comes out clean.
Cool
To make the glaze, in a small bowl add lemon juice to the powdered sugar until it forms a fairly thin glaze.  Either use a pastry brush or dip the tops of the muffins into the bowl to coat the tops of each muffin.
Let them sit uncovered for about 1/2 hour and the glaze will soak in and form a thin crust.