First of the Holiday Gift Recipes – Chocolate (white and dark) with toasted Pecans and Dried Cherries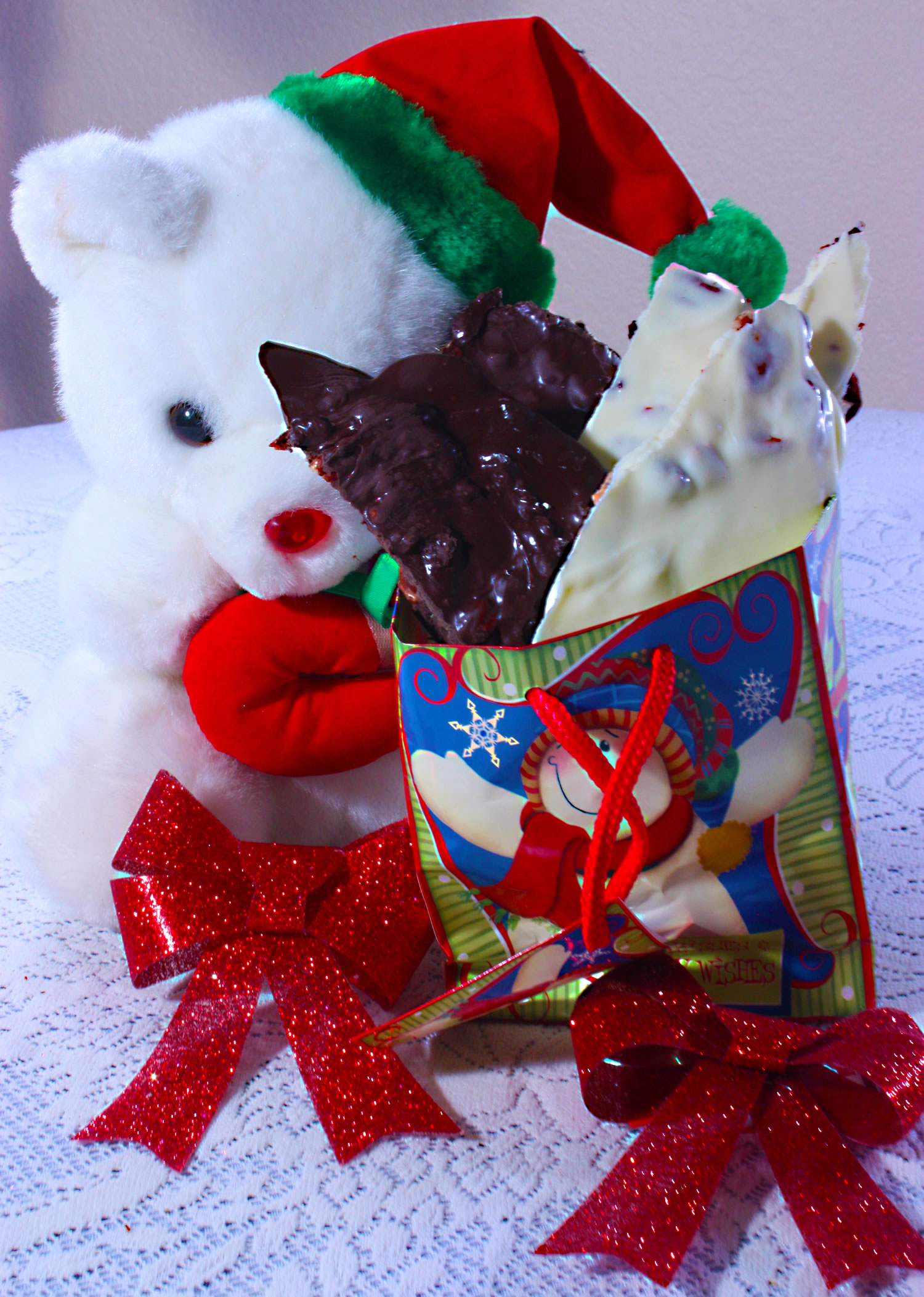 Here is the first and simplest of my holiday treats (and one of my dad's favorites) and it is a good one to start with because it can be made well in advance and takes only three ingredients.  I always make a double batch (about 5 1/2 lbs) because I like to make one regular chocolate and one white chocolate and that's what the pictures show, but the recipe is for a single batch.  Feel free to substitute whatever type of nuts and dried fruit you prefer, I've done it with all kinds and it is always great.
Ingredients:
2.5 lbs of chocolate (white, dark or milk) as I've mentioned before, I'm a big fan of the Ghirardelli brand because it melts and hardens perfectly and still tastes great.  Otherwise, choose a good chocolate, not a "candy" coating or chips as they will not taste as good.
1/4 lb pecans
1/4 lb dried cherries
Method:
Start by spreading the pecans in a single layer on a cookie sheet.  Toast in a 400 degree oven for 5-10 minutes until they are lightly browned.  Check them often because they will burn easily.
While the pecans are toasting, chop the dried cherries.
Place the dried cherries and cooled toasted pecans on a large sheet of waxed paper or foil.
Now melt the chocolate.  Chop into smaller pieces and place in a microwave proof cup or bowl with a spout and heat for 1 minute, stir then heat again in 15 second intervals just until the chocolate melts.  If you are using regular chocolate, leave out a small amount and then add it after the rest has melted and stir it in until it melts.  That will keep the chocolate nice and shiny.
Now the fun part!  Pour the chocolate over the nuts and fruit, spreading evenly with a spatula if necessary.
When the chocolate hardens, break it into pieces and put on a plate or package for gifts.