White Chocolate Wedding Cake for a Small Wedding
 Since moving to the Las Vegas area six years ago, we have had lots of visitors but until now, nobody we know came to get married.  This week a family member is getting married here so I'm quite exited as I don't get to see them often.  I grew up in Michigan, but left after high school and other than a few visits haven't been back, and of course I love weddings so I couldn't resist making a cake.  It is a small group and they can't really take it with them, so I made a small version of a white chocolate cake with a fudge filling using my favorite fool-proof recipes.  I usually make my cakes from scratch, but for wedding cakes, where I don't want to take any chances, I use a combination recipe that uses a cake mix as a base.  It turns out perfect every time, no matter what size pans are used and it's very moist, tastes great and is sturdy enough to make it to the event without breaking.  This type of cake not only looks and tastes great, but really doesn't need a lot of special equipment or practice.  For some great tips and video for making wedding cakes go to Plan a Perfect Wedding and even though this is focused toward wedding cakes, it has some great basics for any cake.
I decided to go with white chocolate decorations because they can be made ahead of time, plus I just love white chocolate and what more perfect opportunity than a wedding cake.  To make the decorations, Wilton has a great site called the Pattern Locator where you can search, then print out all kinds of patterns.  You just put them under a piece of wax paper and using either a piping bag or as I did, a small squeeze bottle, you just follow the pattern.  As I've mentioned before, I am a big fan of Ghirardelli Candy Making and Dipping Bar as it always melts, never seizes up and hardens back beautifully.  You can get it online, or this time of year Sam's Club carries it for the holidays so I stock up around the end of the year.  Once the chocolate has hardened, when you're ready to decorate, you peel it off the wax paper and place it on the cake. 
The Cake:
I use this White Almond Wedding Cake recipe because it never fails, plus it has a handy calculator that let's you figure out how much you need to make based on the number of servings.  
Bake the cake according to the directions.  I usually do it one day ahead then put it in the refrigerator overnight so it is good and cold when you start to ice.  I have a great slicer that I use to split the cakes.  It is inexpensive and works so much better than trying to cut them evenly.  You just set the level and pull it through the cake but if you don't have one, just slice the cakes as evenly as you can.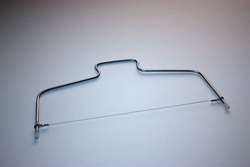 Icing:
I use the icing from White Chocolate Berry Wedding Cake, the only change is I use Almond extract instead of vanilla to go with the Almond cake.  I have made this as a cake using the full recipe and it was really good.  The only problem I have with it is because of the fruit, it doesn't last very long at all and the cake is a little more temperamental so I like to go with the cake recipe above unless I have extra time and can work on it right up until the last-minute.
I used my hot fudge sauce as a filling because I had some but you could use any filling you like. I almost used the honey caramel, but I didn't have any made so the chocolate won.  I've used custard, mousse, jam, or just plain icing.
I put a layer of icing, topped by some of the hot fudge very slightly warmed so it would spread.  Especially on the second layer, make a dam from icing using a pastry bag with a large tip or a baggie with the corner cut off before you put the chocolate in because you don't want it to seep out onto the outside of the bottom layer of the cake.  On the first layer I put icing, covered with chocolate, the second, only the chocolate with the "icing dam".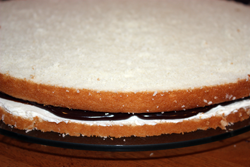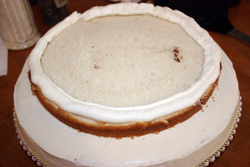 Years ago I took a cake decorating class at my local cake decorating store and it was very helpful.  The best trick I learned for smoothing the icing is to use a little water.  Ice the cake as smooth as you can, then take the long spatula, dip it in a cup of water and gently go over the cake – you don't need a lot of water but when the spatula starts to stick, clean off any icing and dip again in the water.  It will make a very smooth surface.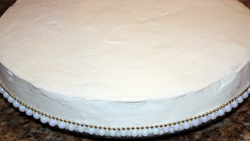 Once the cake is iced smoothly, the "pearls" can be put around the bottom.  You can get them at any cake or craft store, even Wal-Mart or Target sometimes have them.  Then you carefully place the chocolate decorations you made earlier.  Don't worry if some of the pieces break, they are small and might, just press them into the icing and it will still look fine.