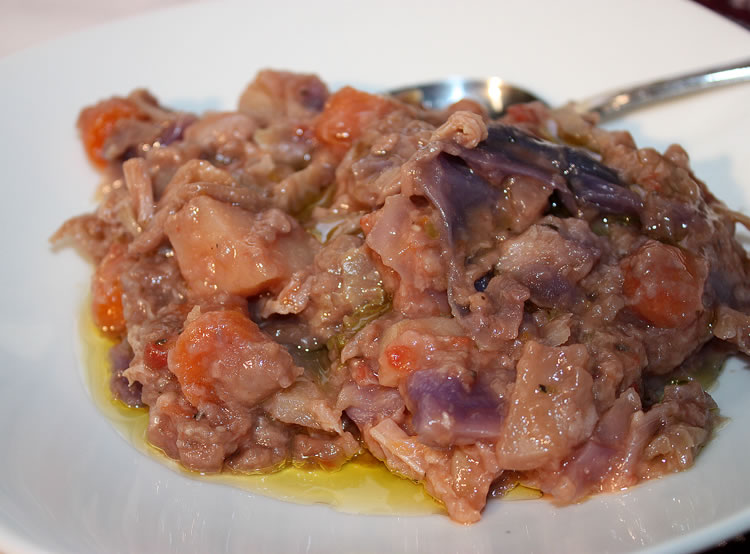 David Rocco's La Ribolita
I have watched the new Cooking Channel lately and have noticed that although there are some new shows, there are an awful lot of reruns of old series that I watched as a child and too many Food Network shows to mention.  Not that I particularly mind, I actually get quite a kick out of Graham Kerr and a younger Julia Childs but this recipe is from one of the newer shows.  David Rocco's show is great, not only does he make my favorite style dishes – Italian, it also shows a lot of the scenery and local establishments in Italy.    
Son does not particularly like cabbage, but came home after I had made this an announced that he was really hungry and wanted to eat whatever he was smelling and so without pointing out the ingredients, I dished him up a big bowl and he ate most of it.  Although David Rocco said it is usually served cooler, I did serve it hot, I couldn't quite get to cold cabbage!  Considering also that cooking cabbage usually results in an unpleasant smell (which I had to admit was there when I opened the pot the next day), this dish smelled ok cooking and works pretty well, is relatively healthy and tastes good.  It is not a particularly photogenic dish though, and having no black cabbage available I used the purple which gave it sort of a purplish tinge.   It looked good on the show and actually tasted good but it has a few issues – overall I would maybe make it again but not on a regular basis.