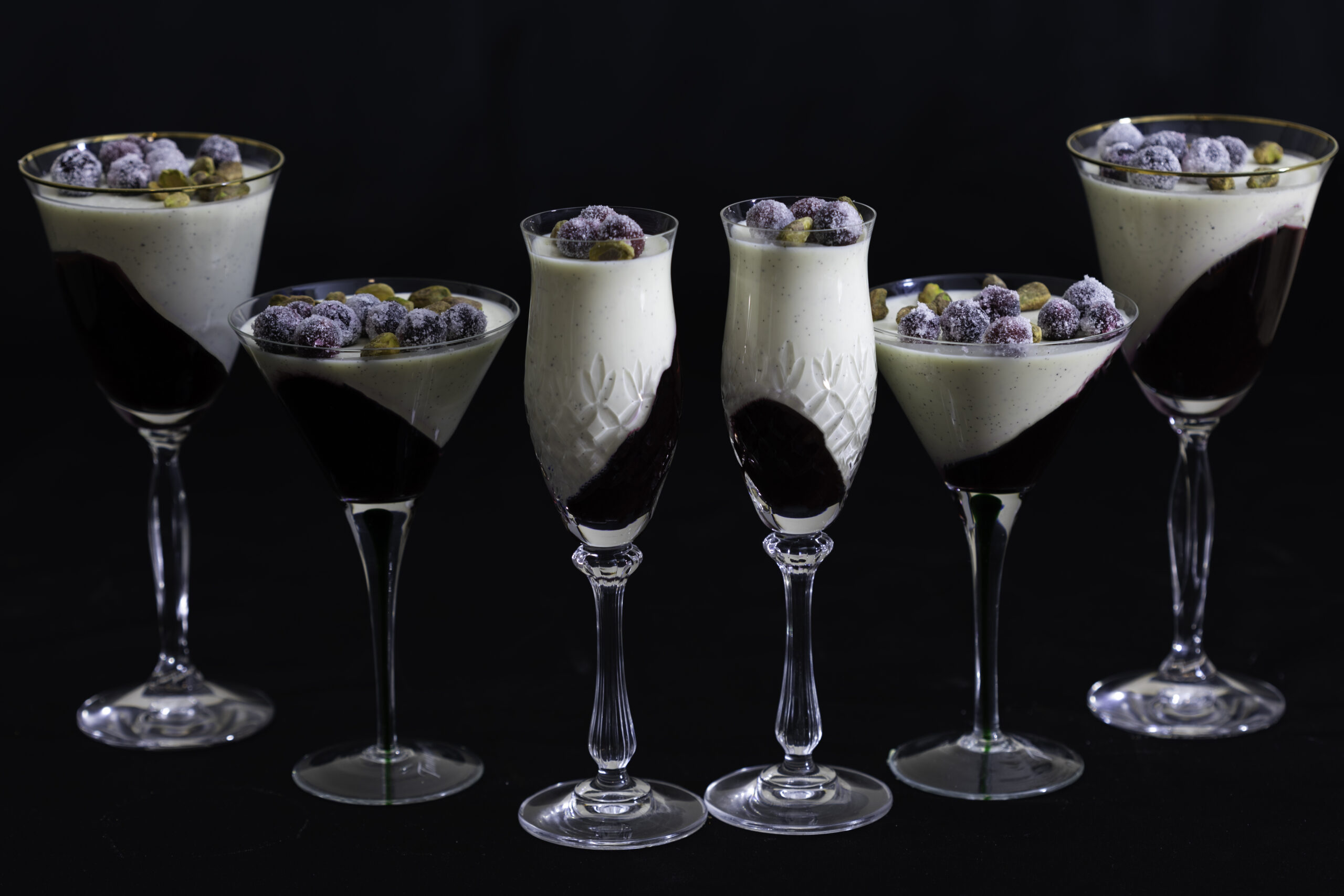 Cranberry and Pistachio Panna Cotta
Servings
6
Active time:
15 minutes
Ready In:
6 hours and 30 minutes
Good For:
Dessert
About this Recipe
I don't know about you, but I always end up with extra cranberry sauce after Thanksgiving and this is the perfect way to use it up.  I usually make my own but this recipe would work with canned as well.  I used my fancy glasses because I don't get many chances and it really makes a beautiful presentation but ramakins or any small bowls would work.
Ingredients
 1 cup jellied style cranberry sauce
1 tbsp powdered gelatin
1 cup milk
2 vanilla beans or 1 teaspoon vanilla extract
1/2 cup pistachio nuts (split evenly)
1 tbsp powdered gelatin
3 cups whipping cream
1/3 cup honey
pinch of salt
To get started warm the cranberry sauce in the microwave for 30-60 seconds until it is pourable and divide equally in 6 dessert glasses. If you have a chunky style sauce like the Cranberry Blueberry recipe below, blend it with a blender or stick blender and run it through a sieve to get a smooth consistency.  You an angle the glasses or just put a nice layer on the bottom.  Place in the refrigerator while you make the panna cotta.
Step by Step Instructions
Step 1
Sprinkle the gelatin over the milk in the measuring cup and let it stand 3 to 5 minutes.
Step 2
Pour milk and gelatin into a heavy saucepan and the split vanilla pods and 1/2 of the pistachio nuts.  Stir over medium heat about 5 minutes until the gelatin dissolves.  Don't let the milk boil. Turn off the heat and let the vanilla beans and pistachio nuts steep in the warm milk for about 10 minutes.
Step 3
Add the cream, honey and salt. Turn the heat on medium and stir 5 to 7 minutes until the mixture is warm but not boiling. Remove from the heat and strain out the vanilla beans and nuts.
Step 4
Remove from the heat and cool for about 15 minutes. Pour into the glasses. Cool slightly. Refrigerate until set, at least 6 hours.  Garnish with cranberries (sugared by dipping in simple syrup then sugar) and the remaining nuts.