Apple Cherry Strudel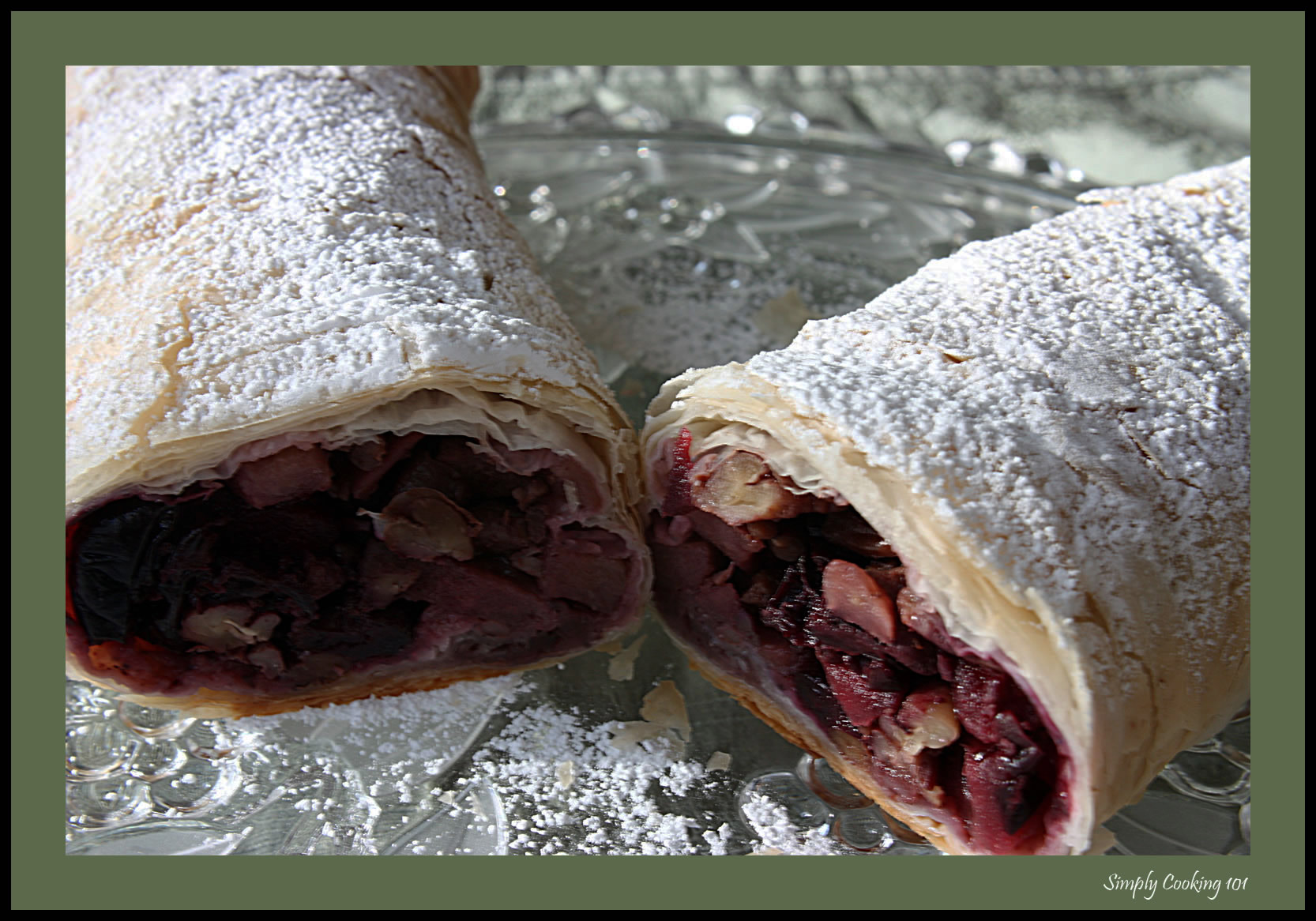 When I was in my twenties, I was friends with an elderly woman from Yugoslavia who made her own phyllo dough.  It was amazing to watch as she took a small lump of dough and using her just her thumb and fingers, turned it into one large sheet as big as a table-cloth and thin enough to see through.  Sadly, I didn't have the patience and couldn't really get the hang of it but fortunately, you can buy it frozen.  My dad came to visit recently, so for a quick dessert I made an apple-cherry strudel.   The combination of the crisp dough and the fruit is wonderful, especially when served warm with a little ice cream.  This makes a fair amount, so if you have any extra, I recommend that you rewarm it in the oven for a few minutes before serving the leftovers because it does tend to get soggy.  It also freezes well, just wrap and freeze before the baking step.  When you're ready to use it, thaw for 1/2 hour and add a few minutes to the baking time.
Ingredients:
5 tart apples peeled and sliced thinly
1 tablespoon lemon juice
1 small package frozen sweet cherries thawed, drained and sliced in half
1/2 cup brown sugar
1 teaspoon cinnamon
1 tablespoon bread crumbs
1/2 cup melted butter
1 pkg thawed phyllo dough
1/2 cup nuts  (optional)
Procedure
While you are peeling and slicing the apples, add them to a large bowl with the lemon juice.  It adds a little flavor and keeps them from turning brown.  Mix the apples with the cherries, brown sugar, cinnamon, breadcrumbs and nuts if you are going to use them.
On a clean kitchen towel, take five sheets of phyllo and lay them flat and brush with butter, repeat this 3-4 times ending with a layer of melted butter.
Place a row about 2-3 inches wide of the fruit mixture one inch from the short side, then roll.   Don't fill them to full, you should be able to get 3-4 strudel. For detailed instructions on how to roll them, see the Althens manufacturers website.  Once you get the first fold done, use the towel to roll the rest of the way.  Place on vegetable sprayed cookie sheets and brush with one more layer of butter.
Bake in a 350 degree oven for about 30 minutes, or until they are nicely browned and puffy.  Sprinkle with powdered sugar and serve warm with ice cream.