1063 Views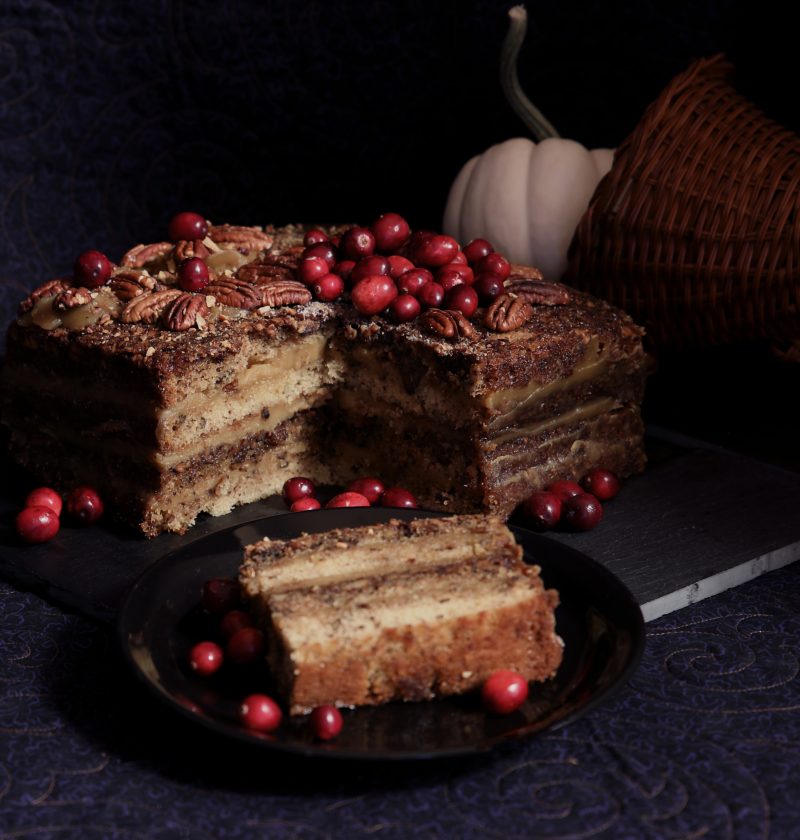 Yields:

20 Servings
Difficulty:

Medium
Prep Time:

25 Mins
Cook Time:

25 Mins
Total Time:

50 Mins
This cake is wonderful for fall, especially Thanksgiving.  It is the perfect combination of cake and pie.  With all that is going on this year, smaller gatherings are more likely and at least in my family there just won't be enough people to eat the usual multitude of desserts.  The cake is moist and full of pecans without being overly sweet.  I have always made one of my holiday pecan pies with cranberries because the tartness of the berries cuts the sweetness of the filling so cranberries seemed like a good addition.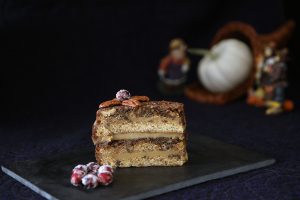 Ingredients
Filling – Chill at least 4 hours


3/4 cup dark brown sugar, packed
1 cup dark corn syrup or maple syrup
6 egg yolks
2 1/4 cups half-and-half
½ cup cornstarch
1/3 teaspoon salt
5 tablespoons unsalted butter (room temperature)
1 1/2  teaspoon vanilla extract
Cake


4 cups finely chopped pecans, toasted
1  cup room temperature butter
2 cups granulated sugar
5 large eggs
1 tablespoon vanilla extract
2 cups all-purpose flour
1 teaspoon baking soda
1 cup buttermilk (or 1 c. milk mixed with 1 T. vinegar)
1 maple syrup or dark corn syrup
Optional 1 cup of fresh or frozen cranberries
Sugared Cranberries
3/4 cup sugar
½ cup water
1 1/2  cups cranberries
Instructions
To begin:  Toast the pecans in a single layer on a cookie sheet  in a 350 degree oven for approximately 5 minutes until lightly toasted and fragrant.  Maple syrup will give a better flavor and can be used for both but my preference is dark corn syrup in the filling as it is thicker and maple syrup for moistening the cake for better flavor.
Filling
Whisk together all ingredients except the butter and vanilla in a 3 quart saucepan until smooth and all lumps are gone. Continue whisking constantly over medium heat until it comes to a boil and continue boiling for 1 minute until it is thick.  Remove from the heat and add the butter and vanilla.  Pour into a heatproof bowl and place plastic wrap on the surface and refrigerate for at least 4 hours but overnight is better.  If you prefer you can quick chill by whisking it over a bowl filed with ice until thick enough to spread.

Cake
Generously butter two 9 inch square or three 8 inch round cake pans. Divide 3 cups pecans evenly into buttered pans; shake to coat bottoms and sides of pans.
Beat the butter until smooth and gradually add the sugar beating until fluffy. Add the eggs yolks one at a time. Add the vanilla.
In a separate bowl whisk together the flour and baking soda. Alternate adding the dry ingredients and buttermilk starting and ending with flour. Add the remaining 1 cup of pecans and cranberries if used.
Pour batter into prepared pans. Bake at 350 degrees for 25-30 minutes, until toothpick inserted in center comes out clean. Cool in pans on wire rack for 10 minutes. Invert layers onto wire racks with wax or parchment paper underneath. Brush the tops and sides of each layer with reduced maple syrup or corn syrup, allow to cool completely.


Assembling Cake:
For three 8 inch layers place one cake layer, pecan side up, on your cake stand; spread half of the filling on top. Place second cake layer, pecan side up, on top of filling; spread with remaining filling. Top with remaining cake layer, pecan side up.
For two 9 inch layers cut each layer in half.  Place the bottom half of the first layer on the cake plate, top with 1/3 of the filling on top.  Place second half of the cake pecan side up on top of the filling; repeat with the remaining layers.
Sugared Cranberries
If you desire, decorate with sugared cranberries.
To make the sugared cranberries make a simple syrup by heating ½ cup each of sugar and water in a small saucepan to a boil.  Add 1 ½ cups cranberries and bring back to a boil then lower the heat and simmer for 2 minutes.  Saving the syrup, strain out and place the cranberries in a single layer on a cookie sheet and allow to dry for 30 minutes.  Save the simple syrup for use in tea or other beverages.  Finally roll the cranberries in an additional ¼ cup of sugar.  Can be stored in an airtight container at room temperature for two to three days.  If the sugar coating melts it can be coated again with fresh sugar.