Thai-Style Chicken with Basil served with Coconut Rice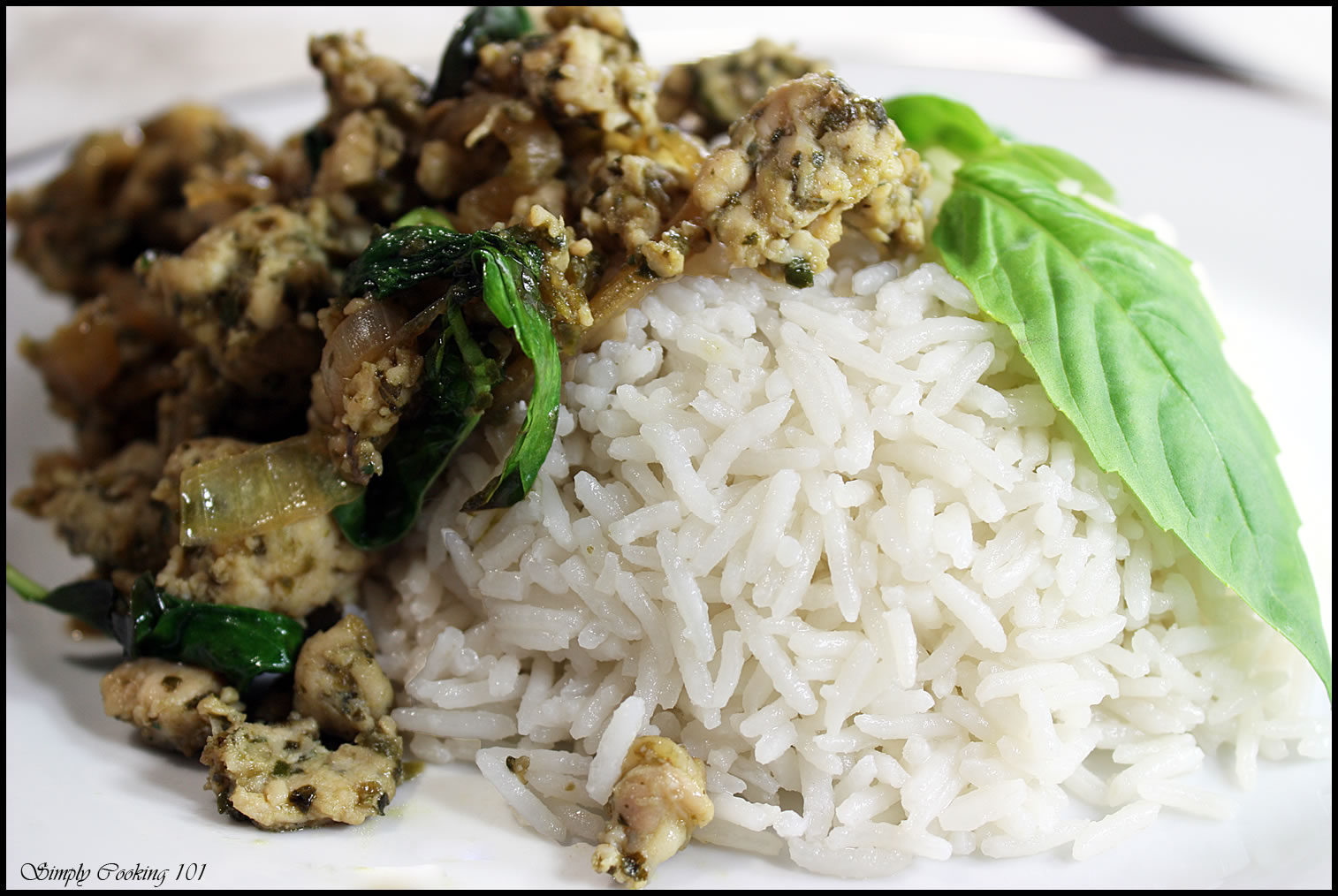 After seeing this on the weekly show, I was inspired by a recipe from America's Test Kitchen Thai-Style Chicken with Basil.  I simplified it a bit to use the items I had on hand and for my wimpy taste buds but I'm sure their version would be excellent as well.  It turned out to be wonderful, even for meat and potatoes me and Husband said it was the best thing I'd made lately so that is a pretty good reference.  Since it made quite a bit, we also used the leftover chicken wrapped burrito style in a tortilla and decided it would also be great in a lettuce wrap.  Considering how few ingredients it really has, it was extremely flavorful, not at all bland like chicken often is.  The whole meal took less than 1/2 hour and used only the food processor bowl, one pot for the rice and one pan for the chicken – a wonder since I normally I can make the kitchen look like a disaster in just a few short minutes.
Here is my version:
Ingredients
Rice:
1 1/4 cup Jasmine Rice (I used Basmati because that's what I had but it really should be Jasmine)
1 can (13.5 oz) coconut milk
3/4 cup water
1/2 teaspoon salt
Chicken:
2 cups fresh basil leaves
3 medium garlic cloves , peeled
6 Serrano chilis
2 tablespoons Soy Sauce
1 tablespoon sugar
1 1/2 pounds boneless, skinless chicken breast , cut into 2-inch pieces
1 medium onion, thinly sliced
2 tablespoons olive oil
Red pepper flakes , for serving
Instructions
First start the rice:
In a medium saucepan, combine all ingredients, cover and bring to a boil.  Reduce the heat to a simmer and cook until the rice is tender, about 25 minutes.
Then start the chicken:
1. In the food processor, pulse 1 cup of the basil leaves, garlic, and chiles until finely chopped, scraping down bowl with rubber spatula half-way through.  Place in a 12-inch heavy-bottomed nonstick skillet, preferably cast iron. No need to wash the food processor bowl.
2. Pulse the chicken and soy sauce in the food processor until chopped,  six to eight pulses. Refrigerate while you work on the next step.
3. Add the onions and oil into the basil mixture in the skillet and stir constantly while cooking over medium-low heat until the garlic and onions are golden brown.
4. Add chicken, increase heat to medium, and cook, stirring constantly and breaking up chicken until it is no longer pink, about 5 minutes. Stir in the remaining cup basil leaves and cook, stirring constantly until the basil is wilted, 30 to 60 seconds.
Serve with the rice, garnished with an extra basil leaf or two.