Girlie Birthday cupcakes: strawberry/strawberry and chocolate/maraschino cherry regular and minis – Part I Strawberry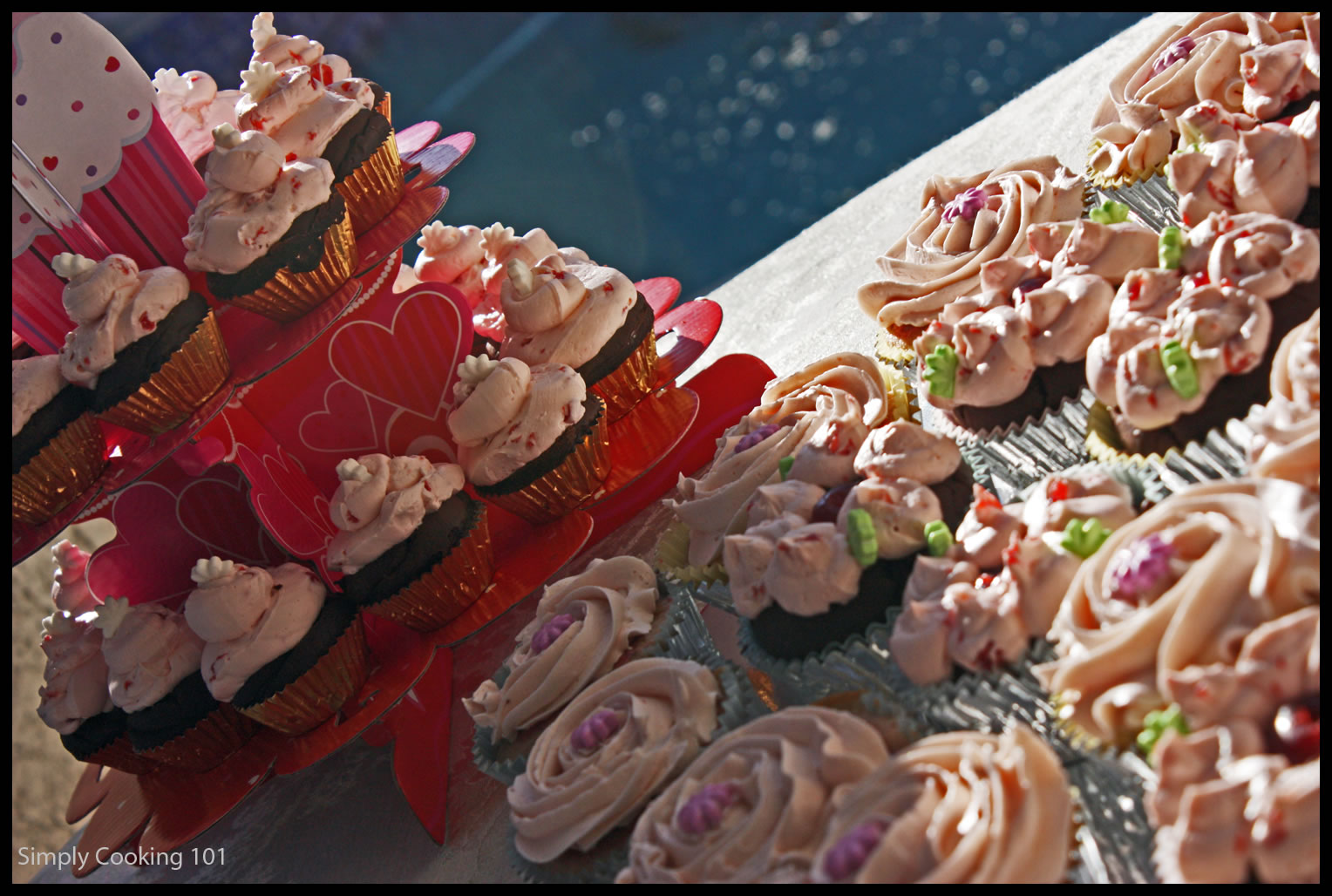 Since my kids are grown and away at school I don't get the chance to practice my kid baking much anymore (although they do expect care packages).  Fortunately, I have friends and family that let me borrow theirs, so today I'm making cupcakes for my friend's four year old pink girlie girl to take to school. I modified and combined several recipes, Martha Stuart's Strawberry Buttercream, which I also made into Maraschino Cherry Buttercream,  Sour Cream Chocolate Cupcakes from Betty Crocker and Sincere Strawberry Cupcakes from Dozen Flours blog.  I'm breaking this one up into two parts as it would be quite long otherwise.  Today the strawberry cupcakes.
Here's what I did:
First I made a strawberry filling (jam).  Starting with a 5 pound package of frozen strawberries (which I split using 4 lb for jam and 1 lb for the strawberry cupcakes).  It is much easier than you'd think to make.
Ingredients:
4 pounds frozen strawberries
7 cups sugar
1/4 cup lemon juice
1 pkg liquid pectin
Add all the ingredients except the pectin to a large pot, mix and bring to a full rolling boil and boil for 5 minutes.  You can add a tablespoon of butter if you like to keep the foaming to a minimum but either way, skim off the foam on top before you jar the jam.  After 5 minutes, add the liquid pectin and boil for one more minute.  Because I intended to use mine as cake/cupcake filings, I used a stick blender to completely mash the strawberries so it would not clog up the pastry tips.  You can make it as smooth or "chunky" as you prefer.  Pour the jam into prepared jars (if you are going to preserve them) or clean jars if you plan on using right away.  Ball has a great  site full of recipes and instructions for canning.  I canned four jars for later, and kept the rest in a bowl for this project.
Obviously, you can just use store bought jam.
Next the strawberry cupcakes:
I basically followed the Sincere Strawberry Cupcakes recipe, the only difference is that I did not use the reserved strawberry juice on top like she does, but instead filled the cupcakes with the jam in a squeeze bottle (slightly warmed in the microwave so it will squeeze).  Stick the top of the bottle down into the cupcake and squeeze a little in.  If it starts to overflow stop but it doesn't really matter as you are going to put a layer on top anyway.
then put a layer of jam on top.
I placed them in the fridge to set up so it would run into the icing.  I then iced with a piping bag filled with the Martha Stuart's Strawberry Buttercream which I made according to her recipe.  It is a great icing as it is not too sweet.  It is really great when you have to transport them as it will harden in the fridge so it keeps its shape, but doesn't dry out and softens right back up when you bring it to room temperature to serve.
Finally I added a small candy to the center of each to make them more flower like.
Part II, Chocolate Maraschino Cupcakes -regular and minis tomorrow.