Daring Baker's Challenge: BISCUIT JOCONDE IMPRIME/ENTREMET (aka fancy sponge cake wrapped dessert)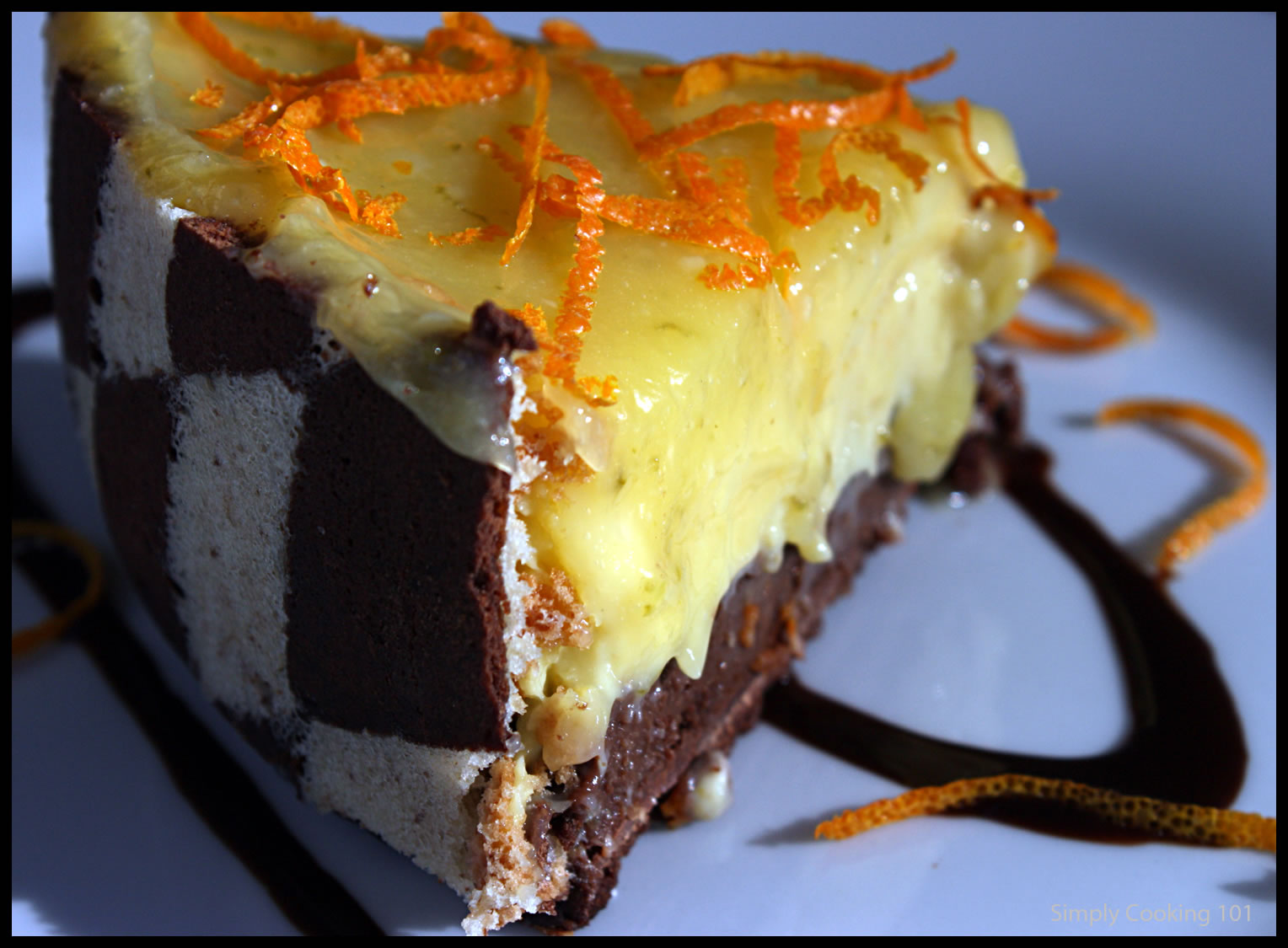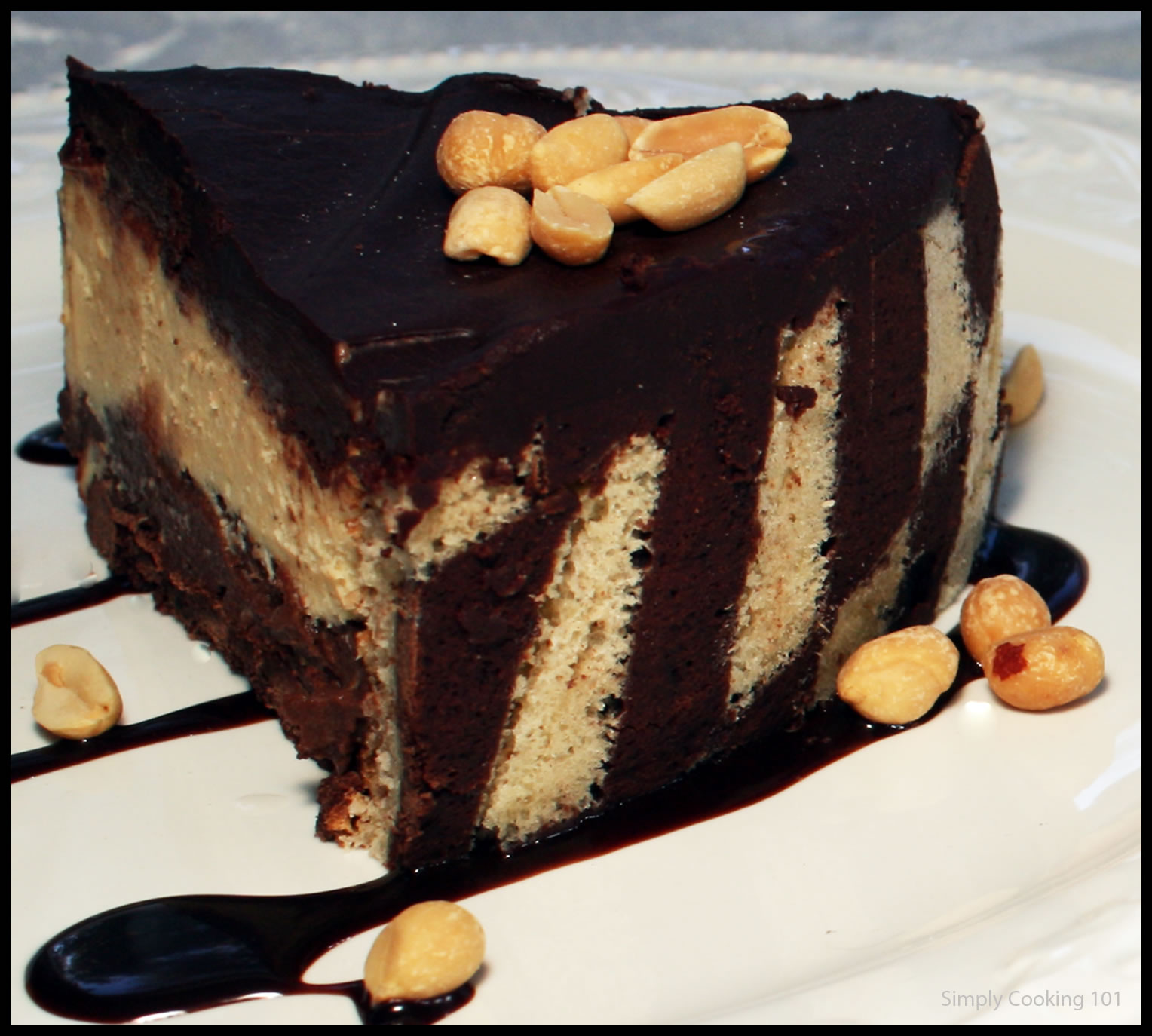 The January 2011 Daring Bakers' challenge was hosted by Astheroshe of the blog accro. She chose to challenge everyone to make a Biscuit Joconde Imprime to wrap around an Entremets dessert.  I chose to make two different ones, one with chocolate and peanut butter pastry cream and one with chocolate and orange pastry cream with a lime curd top.  Overall they were tasty, quite a bit of work and a huge mess in the kitchen (sorry Husband who graciously cleans up) but I would like to make them again and try some different fillings.  I think I would be able to do it a little faster and more efficiently the next time, although probably not with any less mess – I do know my limits.  Thanks for a great challenge!
I followed the recipe provided by Asteroshe for both:
Joconde Sponge
YIELD: Two ½ size sheet pans or a 13" x 18" (33 x 46 cm) jelly roll pan
Ingredients:
¾ cup/ 180 ml/ 3oz/ 85g almond flour/meal – *You can also use hazelnut flour, just omit the butter
½ cup plus 2 tablespoons/ 150 ml/ 2⅔ oz/ 75g confectioners' (icing) sugar
¼ cup/ 60 ml/ 1 oz/ 25g cake flour *See note below
3 large eggs – about 5⅓ oz/ 150g
3 large egg whites – about 3 oz/ 90g
2½ teaspoons/ 12½ ml/ ⅓ oz/ 10g white granulated sugar or superfine (caster) sugar
2 tablespoons/ 30 ml/ 1oz / 30g unsalted butter, melted
*Note: How to make cake flour: http://www.joythebaker.com/blog/2009/09/how-to-make-cake-flour/
Directions:
In a clean mixing bowl whip the egg whites and white granulated sugar to firm, glossy peeks. Reserve in a separate clean bowl to use later.
Sift almond flour, confectioner's sugar, cake flour. (This can be done into your dirty egg white bowl)
On medium speed, add the eggs a little at a time. Mix well after each addition. Mix until smooth and light. (If using a stand mixer use blade attachment. If hand held a whisk attachment is fine, or by hand. )
Fold in one third reserved whipped egg whites to almond mixture to lighten the batter. Fold in remaining whipped egg whites. Do not over mix.
Fold in melted butter.
Reserve batter to be used later.
But based on other's suggestions, I halved the recipe for the:
Patterned Joconde-Décor Paste
YIELD: Two ½ size sheet pans or a 13" x 18" (33 x 46 cm) jelly roll pan

Ingredients
14 tablespoons/ 210ml/ 7oz/ 200g unsalted butter, softened
1½ cups plus1½ tablespoons/ 385ml/ 7oz/ 200g Confectioners' (icing) sugar
7 large egg whites – about 7 oz / 200g
1¾ cup/ 420ml/ 7¾ oz/ 220g cake flour
Food coloring gel, paste or liquid
COCOA Décor Paste Variation: Reduce cake flour to 6 oz / 170g. Add 2 oz/ 60 g cocoa powder. Sift the flour and cocoa powder together before adding to creamed mixture.

Directions:
Cream butter and sugar until light and fluffy (use stand mixer with blade, hand held mixer, or by hand)
Gradually add egg whites. Beat continuously.
Fold in sifted flour.
Tint batter with coloring to desired color, if not making cocoa variation.
Preparing the Joconde- How to make the pattern:
Spread a thin even layer of décor paste approximately 1/4 inch (5 millimeter) thick onto silicone baking mat with a spatula, or flat knife. Place mat on an upside down baking sheet. The upside down sheet makes spreading easier with no lip from the pan.
Pattern the décor paste – Here is where you can be creative. Make horizontal /vertical lines (you can use a knife, spatula, cake/pastry comb). Squiggles with your fingers, zig zags, wood grains. Be creative whatever you have at home to make a design can be used. OR use a piping bag. Pipe letters, or polka dots, or a piped design. If you do not have a piping bag. Fill a ziplock bag and snip off corner for a homemade version of one.
Slide the baking sheet with paste into the freezer. Freeze hard. Approx 15 minutes.
Bake at 475ºF /250ºC until the joconde bounces back when slightly pressed, approx. 15 minutes. You can bake it as is on the upside down pan. Yes, it is a very quick bake, so watch carefully.
Cool. Do not leave too long, or you will have difficulty removing it from mat.
Flip cooled cake on to a powdered sugared parchment paper.
Remove silpat. Cake should be right side up, and pattern showing! (The powdered sugar helps the cake from sticking when cutting.)
She also provided a great list of helpful sites:
http://lesotlylaisse.over-blog.com/article-realiser-un-biscuit-joconde-i…
http://www.marthastewartweddings.com/recipe/joconde-cakes
http://www.marthastewartweddings.com/recipe/pate-a-cigarette-batter-choc…
http://ricettedafairyskull.myblog.it/archive/2010/05/29/biscuit-joconde-…
http://chocolateandzucchini.com/archives/2004/02/pierre_hermes_aztec_ent…
http://sum.ptuo.us/roller/ks/entry/entrement_project_at_nwcav
http://www.youtube.com/watch?v=ca4eLDok-4Q
http://www.youtube.com/watch?v=0e1DsyDtcd0&feature=related
As I didn't have either almond flour or cake flour on hand, I made my own.  I used the Joy of Baking recipe for the cake flour and for the almond flour I put about 1 cup of almonds in the food processor, pulsed until fine, sifted and repulsed the rest until it was all ground finely and sifted into a bowl.  It was pretty simple and worked out well.
First I made the sponge wrapper, mixing the paste first.  I think mine was too thick as it was more like a dough than a paste, but it worked out ok and was actually pretty easy to decorate with.  It was a little more crunchy than the sponge after it was baked but it still tasted good.
I used the left over paste (dough) to make two circles to use as a base.
I measured, sliced and filled two springform pans without any difficulty, except as I so think it may have been a little thicker than it was supposed to be and next time I would do a thinner layer.
Next came the filings:
Husband wanted chocolate (of course) and peanut butter so the first one was easy but I spent quite a bit of time thinking about the fillings because there are just so many options.  I ended up with a chocolate base, chocolate pastry cream, orange pastry cream and lime curd filling for the second one.
For this challenge, I did the real thing and used a basic pastry cream recipe with the chocolate and orange variations I found at about.com.  I modified the basic recipe by adding 1/4 cup peanut butter at the end for the peanut butter layer.  However, a great tip for a really quick and great substitute is to use instant pudding (whatever flavor you want) with heavy whipping cream instead of milk it has a wonderful texture and takes minutes to prepare.  I do it all the time using the vanilla with peanut butter, the chocolate and coconut cream as it makes a great pie too!  For the lime curd again I used a basic lemon curd recipe from Better Homes and Gardens, substituting lime for the lemon.   It was a little soft for this use though, so next time I will increase the corn starch to 2 1/2 teaspoons.
After I finished all they various fillings, I layered them and refrigerated overnight to set.