French Onion Soup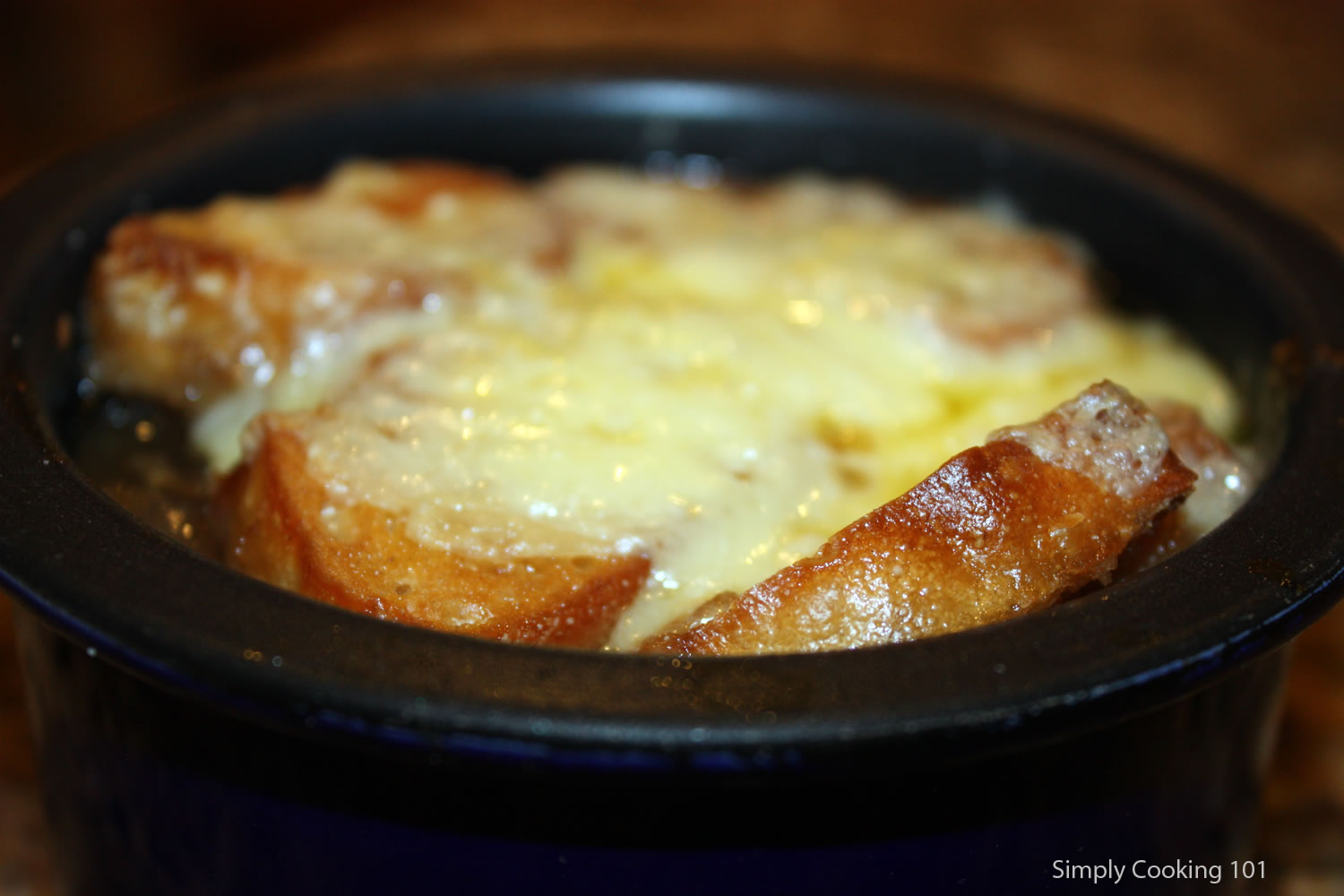 I really love soups.  They are tasty, generally easy to make, great for using up leftovers in a way that doesn't seem like the same thing again and most are pretty healthy (remember I'm trying to balance my natural inclination to the "no carbs left behind" plan).   I always thought that this would be difficult to make, but it is really pretty easy yet looks impressive.  The most important part of the recipe is to use a good quality broth and have patience browning the onions, the browner the better!
Ingredients:
6 large yellow onions, peeled and thinly sliced.
Olive oil
1/4 teaspoon of sugar
2 cloves garlic, minced
1/2 cup of red or dry white wine
8 cups of beef stock
Salt and pepper
8 slices of  French bread
1 1/2 cups of grated Swiss Gruyere
Brown the onions in a large heavy pot over medium high heat in the olive oil and with the sugar which will help the onions caramelize.  (Just a hint, once I tried sweet Maui onions with a sweet white wine and it wasn't a good choice – stick to the yellow onions and a dry wine.)
When the onions are browned, add the garlic and cook for about 30 seconds.  Add the wine and cook for 2 minutes to reduce, then add the stock, salt and pepper and simmer for about 1/2 hour.
While the soup is simmering, prepare the bread by placing on a single layer on a baking sheet and brushing generously with olive oil.  Bake in a 400 degree oven for about 5-10 minutes or until nicely browned (the fresher the bread, the longer it will take).  Watch it carefully so it doesn't burn.
To serve, ladle into a heat safe bowl, place one or as many slices as will fit of toast on top and cover with shredded or sliced Gruyère.  Place under the broiler for 1-2 minutes, just long enough to melt the cheese.  Serve immediately but be careful, the bowls will be hot so use hot pads and don't put them down directly on the table – use small trivets or cloth placemats.