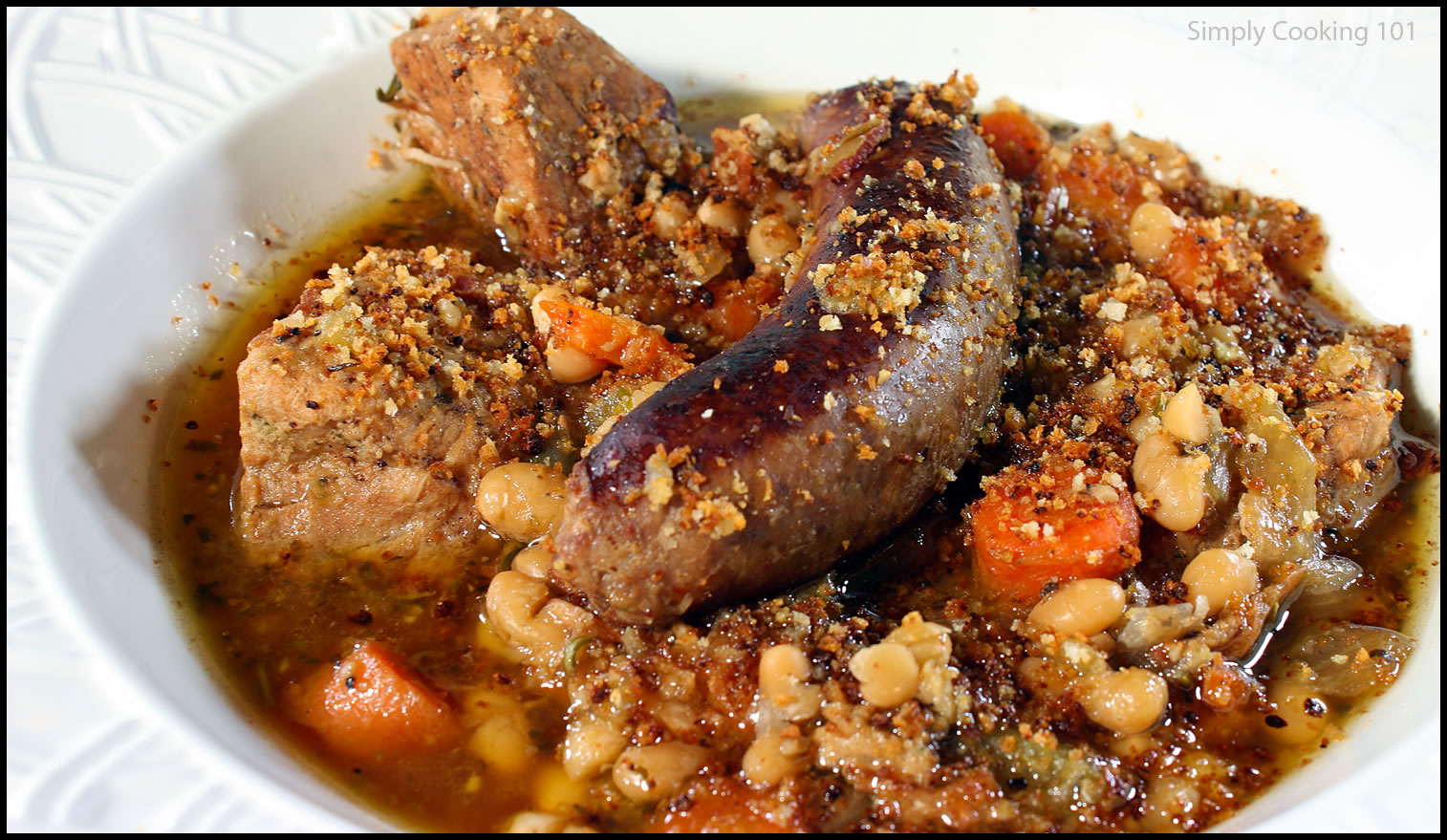 The Daring Cooks Challenge: Simplified Cassoulet with Garlic Confit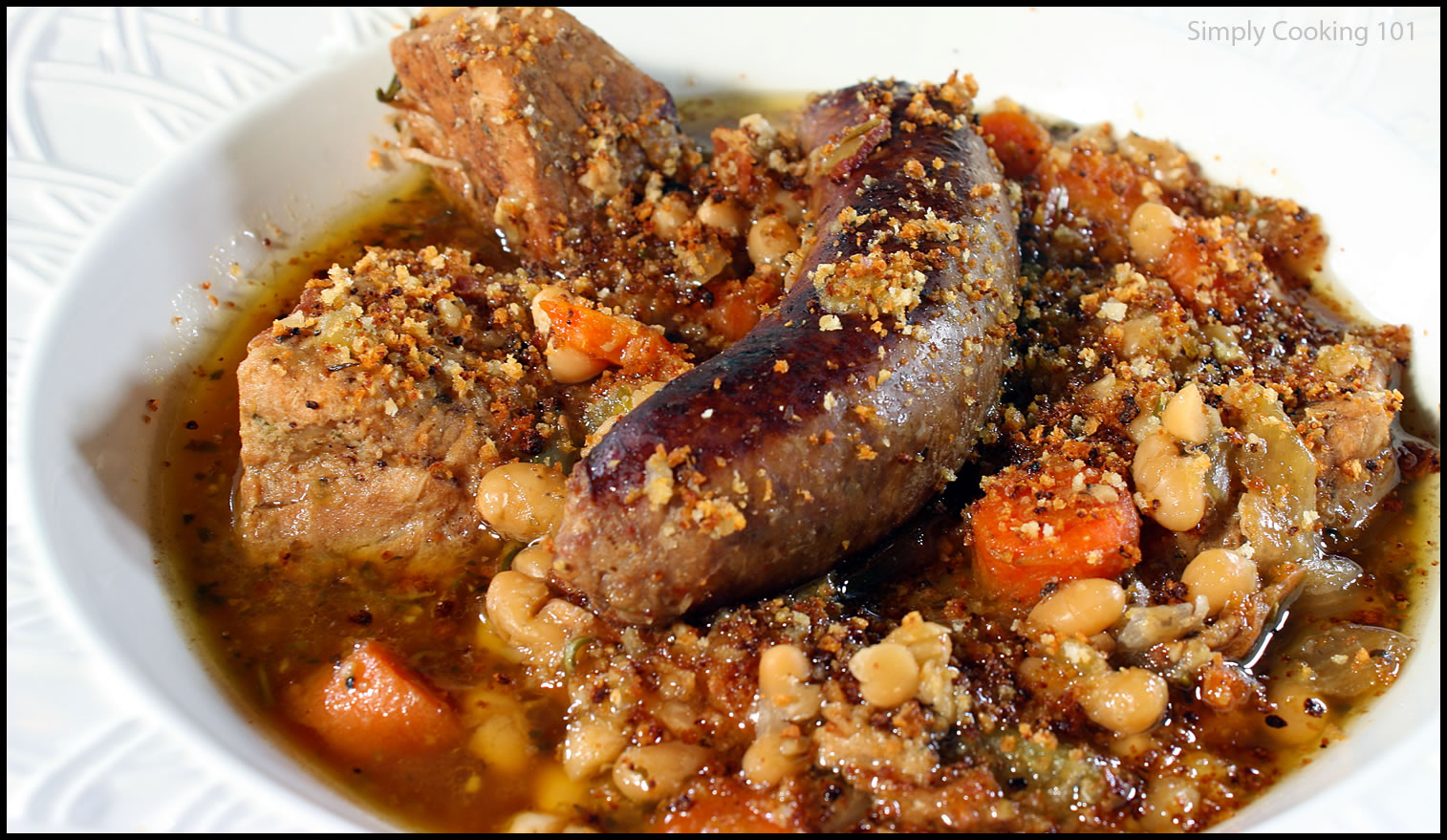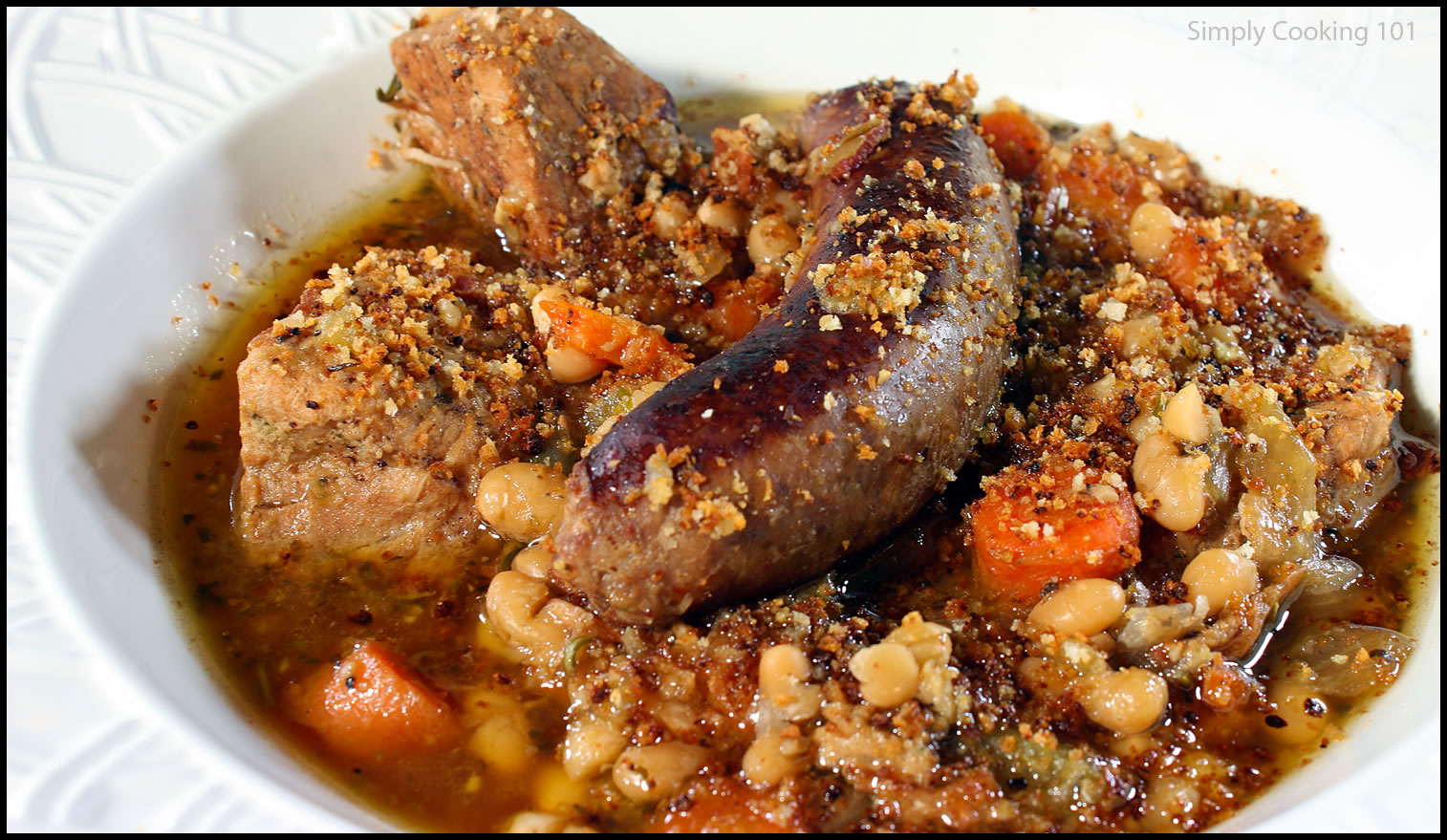 Our January 2011 Challenge comes from Jenni of The Gingered Whisk and Lisa from Parsley, Sage, Desserts and Line Drives. They have challenged the Daring Cooks to learn how to make a confit and use it within the traditional French dish of Cassoulet. They have chosen a traditional recipe from Anthony Bourdain and Michael Ruhlman.  Their great recipes and instructions for the challenge can be found on Jennie and Lisa's sites above.  Thanks to them for a great job and I have to admit it was better than I was expecting!
As usual, I just can't seem to follow a recipe and have to go off on my own tangent (probably because I'm a pretty picky eater so I leave out anything I don't care for).  Not being a big fan of duck and not really having time to figure out where to get it anyway, the duck went by the wayside.  Also because of an unexpected trip to take Daughter back to college, my schedule was a little tight so I looked at many recipes, then went with a simplified version combining them and using what I had on hand – bacon, Italian Sausage, thick boneless pork chops and the garlic confit I made before the trip.  You can make this version in about 3 hours with a small amount of prep the night before but it is really flavorful (lots of fat and garlic of course) and if you didn't have the garlic confit, you could just use garlic.
First the garlic confit:
I like to use what I have, and I happened to have a giant jar of peeled garlic  cloves (maybe a pound – a really big Costco size jar) that I bought for my holiday cooking, forgot about and it was getting close to its expiration date.  Into a roasting pan it went, in a single layer, just covered with olive oil (about a cup) and roasted at 350 for about an hour and a half until it was nicely brown and soft.  I then took the cloves out of the oil, smashed them in the food processor, placed in jars and covered the top with a thin layer of the reserved olive oil.  I gave away several jars for holiday gifts and kept some for myself for the cassoulet.
After returning from the trip with only one day to complete the challenge, it was time for step 2 – place the beans (1 lb)  in a pot of water and put them in the fridge to soak overnight.  I retrieved the pork chops which I had sealed in a packet with garlic and olive oil and frozen some time ago and put it in the fridge to thaw.
The Big Day:
1 lb white navy beans
2 Tbs olive oil
1 lb bacon
2 onions (1 quartered, the other chopped)
sprig of fresh rosemary
5 carrots chopped
3 celery stalks
8 hot Italian sausages
4 large, thick (1-2 inch) pork chops cut into 2 inch chunks
2 quarts chicken stock
4 Tbs Garlic Confit
2 Tbs Italian seasoning
First,reserve 2 slices of the bacon and cut the rest into small pieces and start it frying in a large oven safe pot that you have placed a couple Tbs of olive oil in.  Then in a separate large pot, place the quartered onion, 2 slices of bacon cut in half, the sprig of rosemary and the drained, soaked beans in a large pot and cover with water.  Bring to a boil then lower the heat and simmer while you do the following (about 1/2 hour).
When the bacon is crisp, remove it from the pan and set aside, leaving the oil and bacon fat in the pan.
Add the carrots, celery and onions and fry until they are just starting to brown.
Remove them from the pot and add to the bowl of bacon, leaving the oil in the pot.
Now brown the sausages well.
Remove and set aside the sausages with the bacon and vegs.
Now brown the pork pieces in the olive oil, bacon fat and sausage fat – it's hard to get better than that! (I also added the garlic and olive oil that I had marinated the pork chops just because you can never have enough garlic.)
Now add back the bacon, vegs, sausage, drain the beans and add them along with the broth, garlic confit and spices.  Bring to a boil, then place uncovered in a 350 degree oven for 2 hours.
Garlic Bread Crumbs
Pulse 4 ciabatta rolls in the food processor to fine crumbs, add 3 TBS garlic confit and pulse until well mixed.  Spread on baking sheet(s) in a thin layer and place in the oven 15 minutes prior to serving the cassoulet.  Sprinkle on top after plating (or in my case bowling) the cassoulet.