Holiday Gifts – White Chocolate Popcorn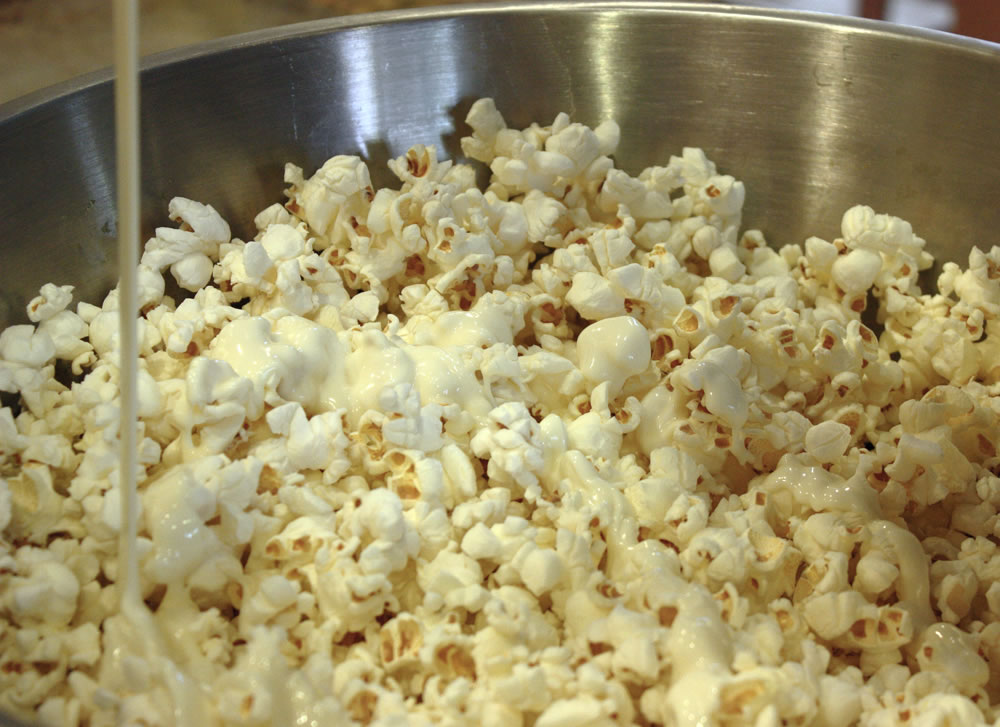 Here's another really easy one, great to do with the kids!
Ingredients:
1/3 cup unpopped popcorn
1 12 oz pkg white chips
1-2 Tbs vegetable oil (optional)
2 crushed candy canes, nuts, M&M's, etc (optional)
Procedure:
Set out a large cookie sheet sprayed with vegetable spray.
Pop the corn into a large bowl.
Melt the chocolate chips in the microwave, start with 30 seconds, then stir and do 15 more seconds and another 15 if needed.  Even when melted, the white will sometimes keep its shape so make sure to stir to check, otherwise you might burn it.   If the chocolate seems to thick to pour, add 1-3 Tbs of vegetable oil until the consistency is pourable.
If you are adding anything like nuts or candies, add to the popcorn in the bowl.  Pour the white chocolate over the popcorn, mixing as you pour.  A large fork works better than a spoon so you don't pick up so much of the chocolate and you can separate the popcorn.
Mix quickly, then spread in an even layer on the cookie sheet as it will harden quickly.
Once the chocolate has hardened, break it up and put in a holiday container for gifts or in a serving bowl for snacking.  It will get soggy so keep it sealed up until you are ready to use it.  Sealed it will keep very well for several weeks.