Holiday Gifts – Peanut Brittle the huge gift batch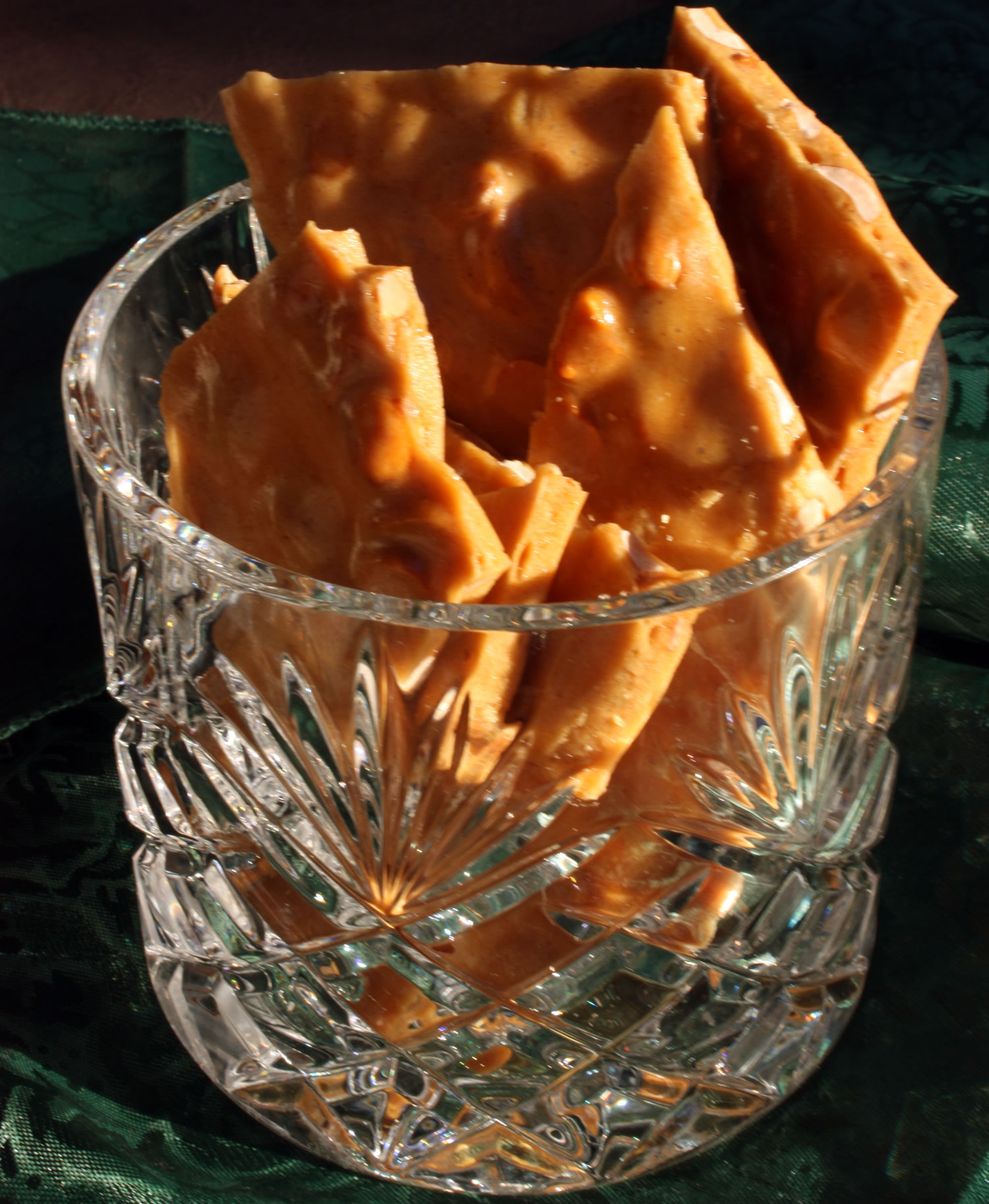 Finished one of my holiday regulars – Peanut Brittle.  It is basically a pretty simple recipe, syrup caramelized with peanuts, but can be a little tricky.  A great help is to have a candy thermometer but the most important is to remember that it is hot . . . really, really hot.  The first time I made this I was living in Germany in a tiny apartment.  The kitchen table was 24″ x 24″ and there was just enough room on each side for a chair.  While pouring the candy on to the cookie sheet, it started to drip off the sheet and the table.  Instinctively (and very wrong) I stuck my hand under to catch it so it wouldn't get on the floor.  My entire palm blistered and believe me, I pulled it back fast!  So just a hint – be careful.
With the warnings out-of-the-way, on to the fun part!
The first step is to get your surface ready.  Usually recipes recommend using a sheet pan, but I found that foil works better (and gives a larger surface preventing burns).  Put a large towel down to protect your counter from the heat and cover it with heavy-duty foil like this:
Spray with cooking spray – you can butter it but I find the spray easier and I can't tell a difference in the candy.
The ingredients are (this makes about 8 pounds)
7 cups sugar
3 1/2 cups light corn syrup
1 3/4 t salt
1 3/4 cups water
8 cups peanuts
1 tsp cinnamon
3/4 cup plus 2 T butter
2 tablespoons and 1 teaspoon baking soda
In a large heavy pot (copper if you have it) over medium high heat add the sugar, corn syrup, salt, cinnamon and water until the sugar has dissolved.
Next add the peanuts and set the candy thermometer.
Continue cooking, stirring frequently.
When the candy reaches 300 degrees remove from the heat, add the butter and mix until melted, then add the baking soda and stir vigorously.  You will need to work fast and it will foam up when you add the baking soda.  As soon as it is mixed, pour the candy onto the foil (carefully).
Let the candy cool and harden, the break into pieces.