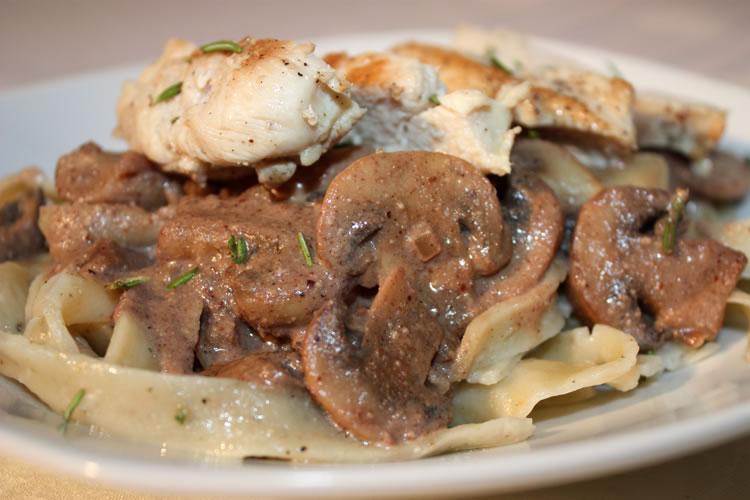 The Daring Kitchen Challenge: Chicken with Pecan Cream & Mushrooms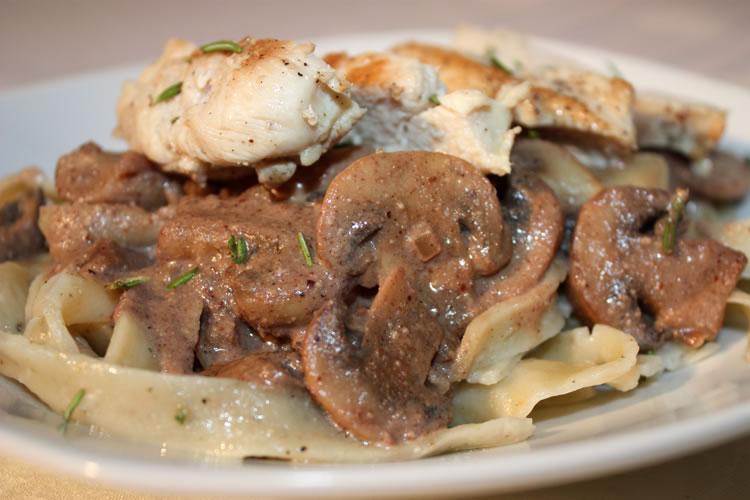 This is my first monthly cooking challenge from the Daring Kitchen.  Unfortunately, after being accepted, just after one ended and before the other began, I didn't realize the July session was already done so . . .  I did it anyway, even making my own egg noodles.  The challenge was to use nut butters (which they gave instructions for making) in a savory recipe and they gave four recipes as suggestions: Chicken with Pecan Cream & Mushrooms, Asian Noodle Salad with Cashew Dressing, Chicken with Curried Tomato Almond Sauce, and Walnut Walnut White Bean Dip with Rosemary & Sage.  I found that the recipe was very rich, filling and tasty, but was a pretty unappetizing color, kind of a purplish beige.  I was very pleased with the Herbed Egg Noodles which looked great, tasted great and the dough was easy to work with.     
Herbed Egg Noodles     
6 servings     
2 1/2 cups all-purpose flour
1 pinch salt
2 eggs, beaten
1/2 cup milk
1 tablespoon butter
1/2 teaspoon each onion and garlic powder
2 tablespoons Italian seasoning (or any combination of your favorite herbs)
In the bowl of a large food processor place all ingredients and process for about 30 seconds after the dough forms a ball.  Wrap in plastic and rest for at least 10 minutes on the counter.     
On a floured board or counter, roll very thin 1/8″ and slice into your desired thickness with a pizza cutter or knife.      
To cook, place in a large pot with boiling salted water and cook until al dente, about 4 minutes for 1/4 wide, less or more depending on the size and thickness.  Remember, these are fresh so they don't take very long.     
Chicken with Pecan Cream & Mushrooms     
Chicken with Pecan Cream & Mushrooms: adapted by  Margie of More Please and Natashya of Living in the Kitchen with Puppies from Cooking Light, October 2002     
 
Yield: 4 servings     
Recipe notes: Substitute your favorite pasta or rice in place of the egg noodles. Use fresh rosemary or parsley in place of thyme if you prefer.     
Ingredients:     
Pecan Cream:
3/4 cup (180 ml) coarsely chopped pecans*, toasted
1 cup (240 ml) water
¾ teaspoon (3 ml) salt, more as needed     
½ pound (225 g) egg noodles or pasta
4 (6-ounce / 170 g) boneless, skinless chicken breast halves
1 teaspoon (5 ml) olive oil, more as needed
Salt & pepper to taste     
Sauce:
1 tablespoon (15 ml) deglazing liquid (water, broth, wine; optional)
1 teaspoon (5 ml) olive oil, more as needed
1/4 cup (60 ml) finely chopped shallots
½ pound (225 g) mushrooms, sliced
1 Tablespoon (15 ml) fresh thyme leaves
Chopped pecans, (optional garnish)     
Directions:     
Prepare pecan cream. Grind pecans in a food processor for about a minute or so until smooth, scraping down the sides of bowl as needed. Add water and 3/4 teaspoon (3 ml) salt; process until smooth, scraping sides of bowl as needed. Set aside pecan cream. (*If starting with prepared pecan butter, blend ¼ cup plus 2 Tablespoons (90 ml) pecan butter with the water and salt until smooth.)
Cook noodles according to package instructions in salted water. Drain, rinse, and keep warm.
If desired, pound chicken to ¼ inch (6 mm) thickness to promote even cooking. Sprinkle with a bit of salt and pepper to taste. Heat 1 teaspoon (5 ml) olive oil a large nonstick skillet over medium-high heat. Add half the chicken; sauté 3 to 5 minutes on each side or until cooked through. Cook the chicken in 2 batches, adding more oil if needed for second batch. Set aside cooked chicken on a clean plate, cover to keep warm.
Add deglazing liquid to pan if using and stir up any browned bits. If needed, add another teaspoon (5 ml) of oil (or more) to pan for sautéing the shallots and mushrooms. Sauté the shallots and mushrooms over medium heat for 4 to 6 minutes or until mushrooms are tender and starting to brown. Add fresh thyme to the pan. Stir in pecan cream; bring to a boil. Reduce heat and simmer for about 1 1/2 minutes till reduced slightly.
Slice chicken into thin strips. Divide the noodles among serving plates. Add a scoop of the mushroom pecan sauce on top of noodles. Lay sliced chicken on top. Garnish with fresh thyme and/or a pinch of chopped pecans if desired.
The July 2010 Daring Cooks' Challenge was hosted by Margie of More Please and Natashya of Living in the Kitchen with Puppies. They chose to challenge Daring Cooks to make their own nut butter from scratch, and use the nut butter in a recipe. Their sources include Better with Nut Butter by Cooking Light Magazine, Asian Noodles by Nina Simonds, and Food Network online.