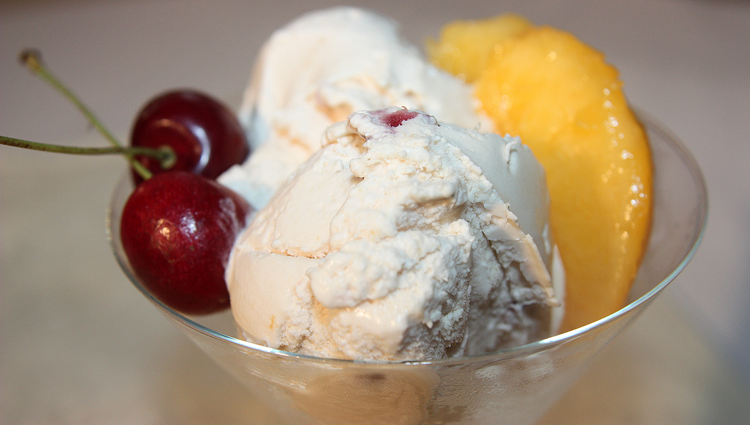 It's National Peach Ice Cream Day!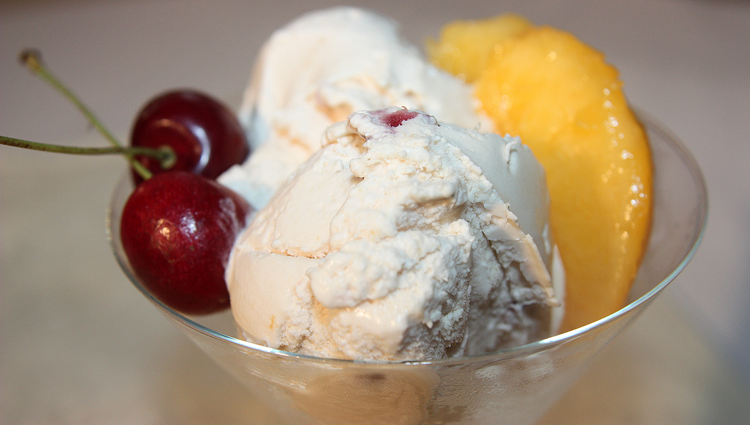 I understand today is National Peach Ice Cream Day.  I don't know who comes up with these things, but I'm all for peach ice cream so I am all in; made the peach ice cream, and even threw in some nice fresh cherries.   It's a really creamy recipe that freezes into a smooth almost fluffy consistency that got the seal of approval from son.     
Peach Cherry Ice Cream    
2                            eggs    
1             cup         sugar    
1/4         tsp          salt    
2 1/2      cups       whipping cream    
2             cups       half-and-half    
2 1/4      tsp          almond extract    
4                            peaches    
1/2         cup         cherries    
Procedure    
1             Peel and dice the peaches and pit and chop the cherries.  (A quick way to peel the peaches is to dip them into boiling water for 10 seconds, the skins will slip right off.)  Please them in a bowl and kind of smash up the peaches and mix well with the cherries.    
2             In a heavy saucepan, combine the eggs, sugar, salt and creams. Cook over medium-low heat, stirring constantly, until the mixture is thick enough to coat a metal spoon and reaches at least 160 degrees F.    
 3             Remove from the heat; add the almond extract, diced peaches and cherries, cover and refrigerate overnight or  cool down by placing the saucepan in a large bowl of icewater (make sure not to get any water in the mixture) .    
4             Pour the custard into an ice cream freezer and freeze according to the manufacturer's directions.    
I like it soft when it just comes out of the freezer, but if you like it firmer, place in a sealed container and place in the freezer for a couple of hours.    
Servings: 12 (6 in my family)