Papas Rellenas (fried meat stuffed mashed potatoes)
What could be better than fried stuffed mashed potatoes – even a picky eater like me can appreciate that.  For this month's Daring Cook's Challenge, Kathlyn of Bake Like a Ninja was our Daring Cooks' March 2011 hostess. Kathlyn challenges us to make two classic Peruvian dishes: Ceviche de Pescado from "Peruvian Cooking – Basic Recipes" by Annik Franco Barreau. And Papas Rellenas adapted from a home recipe by Kathlyn's Spanish teacher, Mayra.  Of course as I am not a seafood eater (even cooked), I just couldn't do the Ceveche so Papas Rellenas it was.
I generally followed the recipe she provided with a few substitutions.
Ingredients
For the dough:
2¼ lb (1 kg) russet potatoes
1 large egg
For the filling:
2 tablespoon (30 ml) of a light flavored oil
½ lb (250 grams) finely diced chuck beef
1 small onion, finely diced (about 1 cup (240 ml))
2 bell peppers finely diced
4 cloves garlic, minced or passed through a press (if you love garlic, add more)
1 teaspoon (5 ml) (4 gm) (1/8 oz) ground cumin (use more if you like cumin)
2 tablespoons chili powder
2 cups beef stock for deglazing
Salt and pepper to taste
For the final preparation:
1 large egg, beaten
1 cup (240 ml) (140 gm) (5 oz) all-purpose flour
Dash cayenne pepper
Dash salt
1 cup dry (240 ml) (110 gm) (4 oz) or fresh (240 ml) (60 gm) (2 oz) bread crumbs (you can use regular, panko, make your own or use store-bought)
Oil for frying (enough for 2" (50 mm) in a heavy pan like a medium sized dutch oven)
Procedure:
First I finely diced the meat and vegetables and began by browning the meat in a couple teaspoons of oil.
Once the beef was browned, I removed and set it aside, adding the onions to start them first as I prefer my onions really browned.
Next add the peppers and garlic cooking for just about 1 minute.
Add the beef broth (I use "better than broth"  or "beef base" as I never seem to have regular broth around when I need it and it is much better than the powered cubes.) Bring to a boil over high heat, then lower and simmer until the liquid evaporates.
While the beef is simmering.  Peel and boil the potatoes in salted water until easily pierced with a fork.  Remove, drain and cool, then mash or put through a ricer if you have one.
To the mashed potatoes, add egg, salt and pepper and knead "dough" thoroughly to ensure that ingredients are well combined and uniformly distributed.
Forming and frying the papas:
Use three small bowls to prepare the papas. In one, combine flour, cayenne and salt. In the second, a beaten egg with a tiny bit of water. Put bread crumbs in the third
Flour your hands and scoop up 1/6 of the total dough to make a round pancake with your hands. Make a slight indentation in the middle for the filling.  (I ended up cutting each one in half and reforming them as making only 6 made HUGE ones.)
Spoon a generous amount of filling into the center and then roll the potato closed, forming a smooth, potato-shaped casing around the filling. Repeat with all dough (you should have about 6 papas).
Heat 1 ½ – 2 inches (4 – 5 cm) of oil in a pan to about 350 – 375° F (175 – 190°C).
Dip each papa in the three bowls to coat: first roll in flour, then dip in egg, then roll in bread crumbs.
Fry the papas (in batches if necessary) about 2-3 minutes until golden brown. Flip once in the middle of frying to brown both sides.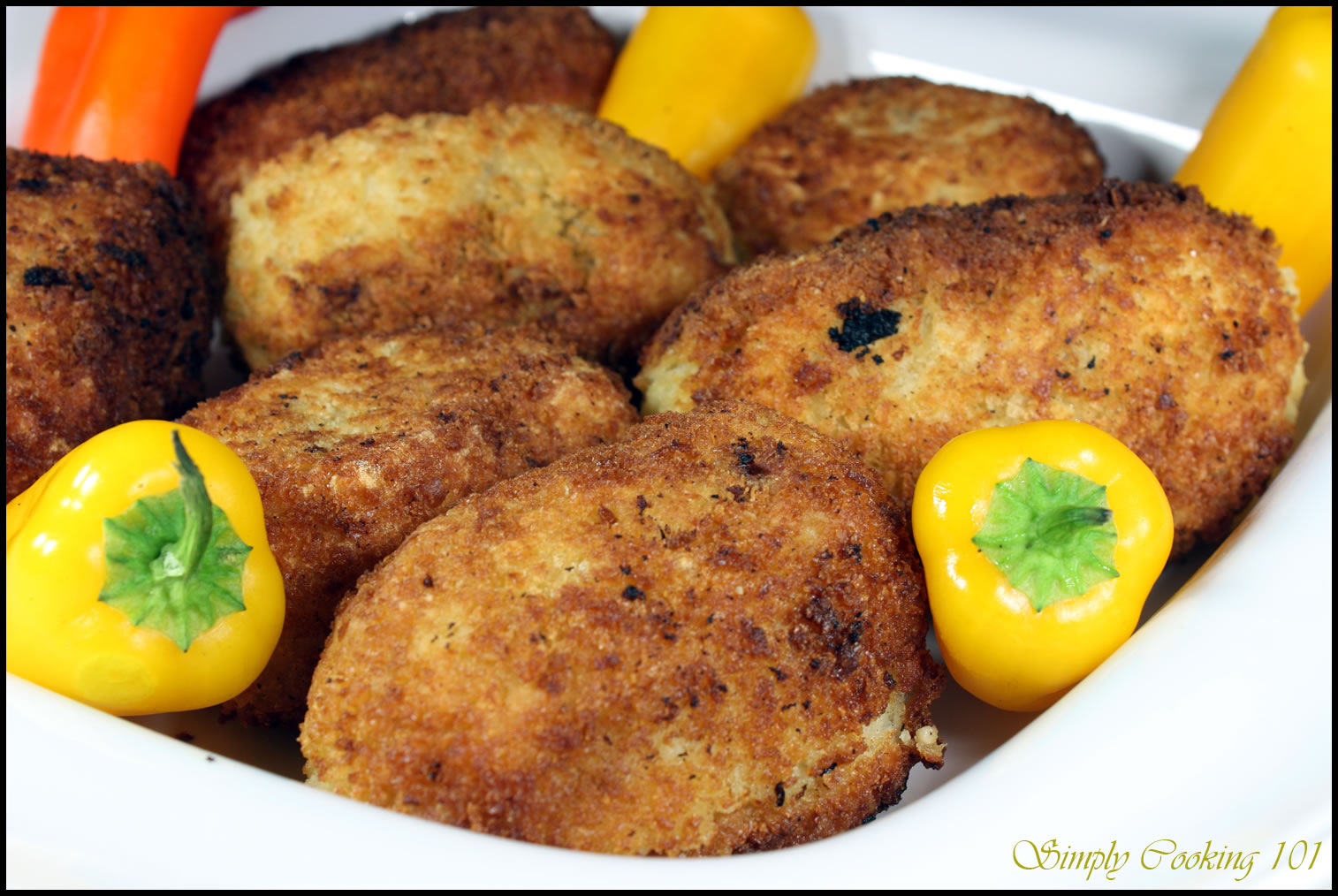 They were a big hit, thanks for the challenge!