Stuffed Chuck Roast with Roasted Garlic Mashed Potatoes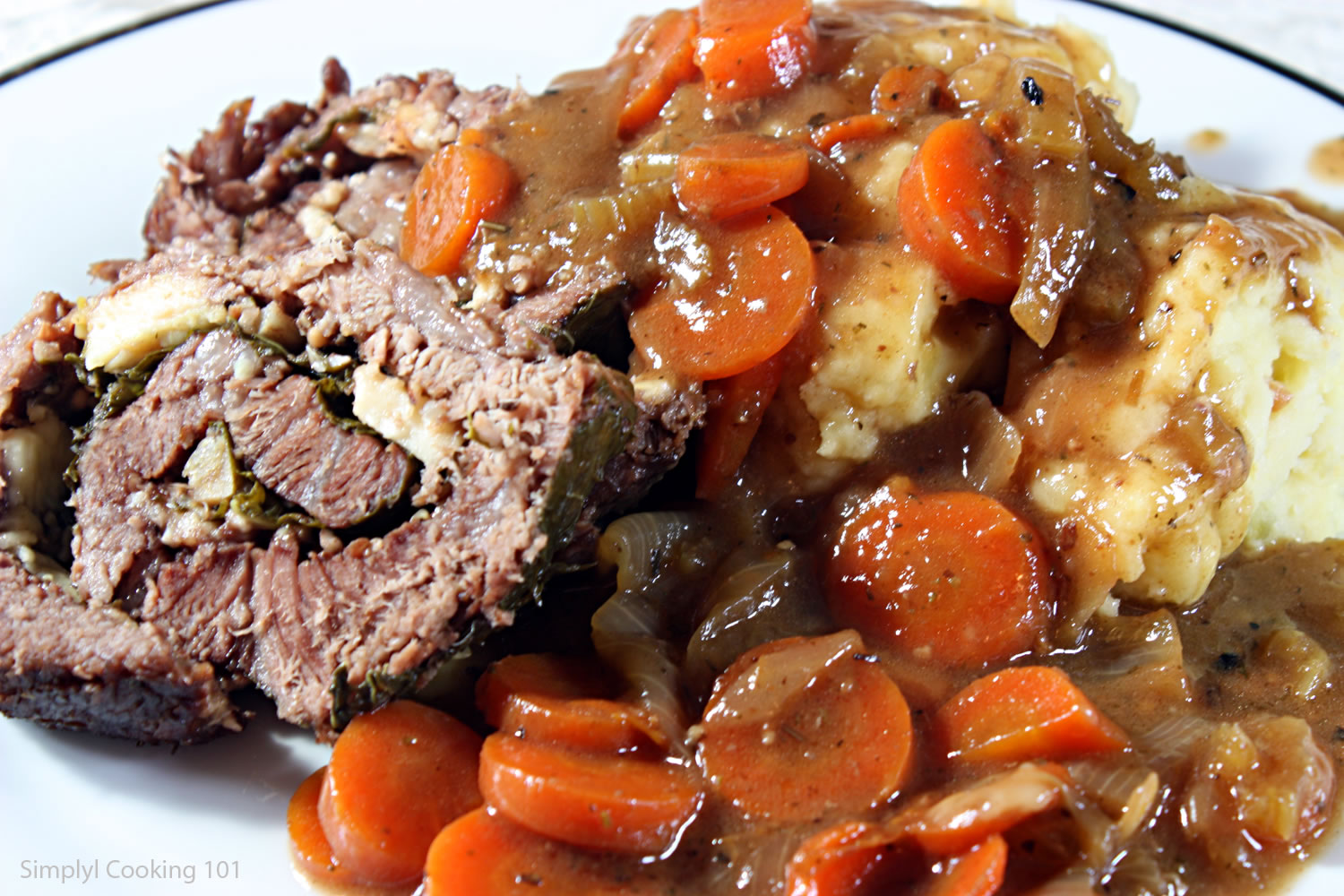 Since I got the big enameled cast iron pots, I've been on a roasting kick, chicken, pork and a lot chuck so I decided to try something a little different than the usual pot roast or beef bourgionon and do a stuffed version.  Keeping with my plan to report the not so good as well as the great, although this tasted great, tender with a wonderful gravy and I would make it again, it probably isn't ideal for this type of meat unless there is a really good sale and you have to use it up.  It was a little hard to slice and stuff because of the amount of fat, etc it isn't very solid.   I had to spend a lot of time tying it up which didn't really even work all that well to hold the stuffing in.   However, the basic recipe was delicious but next time I'll probably use a round or flank steak instead.
Ingredients:
3 lb chuck roast
1 tsp steak seasoning
4 cloves garlic minced
8 oz Asiago cheese
1 cup fresh basil leaves
3 tbsp olive oil
1 large onion chopped
3 celery stalks sliced
5 carrots sliced thinly
1 bottle red or rosé wine
2 cups beef broth
2 tbsp flour
Procedure:
Slice the chuck and pound to about 1/2 inches.  The meat I had was about 2 inches thick, so I sliced it about 1/3 from the top (not all the way through, when you get close to the edge flip it out so it lays flat.  Next go back to the middle where it is thick and sliced in half again not all the way through, flipping it out to make one long piece.  Cover it with plastic wrap and hit it with a mallet or heavy saucepan until it is an even thickness throughout.  Season with the steak seasoning and sprinkle with the minced garlic.
Next slice the cheese and layer on top of the beef.
Cover with the basil leaves.
Now the fun part, roll and tie it up with string.  Note my creative tying to try to cover the holes!
Add the olive oil to the pan over high heat until it starts to shimmer – get it really hot!  Brown the tied up roast on all sides.  Don't rush, a nice dark crust adds lots of flavor.
Remove from the pan and set aside on a platter.
Add the onion, celery and carrots to the pan.
Cook until they just start to brown.
Add the wine and simmer until it reduces by half.  Add the beef broth.
Put the roast back in the pot, along with any juices that have gone on to the plate and bring everything to a boil.  Place covered in a 300 degree oven for 3 hours.   If you don't have any roasted garlic on hand (I still had some left from the holidays), take a few cloves, cut the top off, drizzle with olive oil, wrap in foil and put them in for about an hour while the roast is cooking (until they are soft and slightly brown).
Remove the roast from the pot to a serving platter and tent with foil.  Put the pot back on the stove and bring to a boil.  In a small cup add about 1/2 cup water to the flour and mix well.  Add to the pot and stir until it comes back to a boil to thicken the gravy.
Add the roasted garlic to your favorite mashed potato recipe.
Slice the roast and serve with the roasted garlic mashed potatoes.