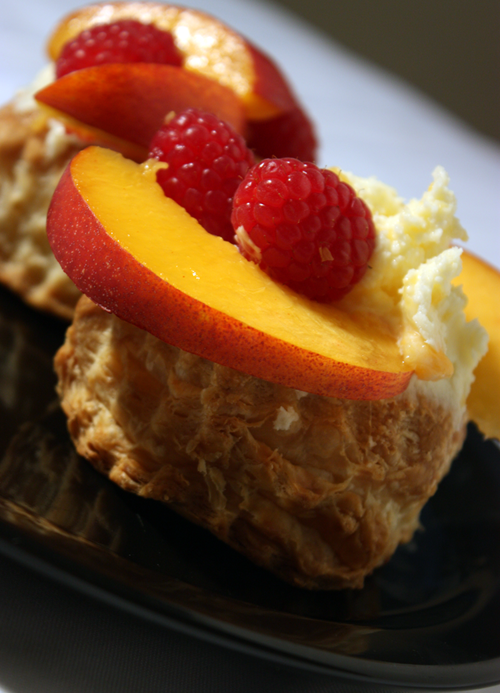 White Chocolate Mousse Peach and Raspberry Tarts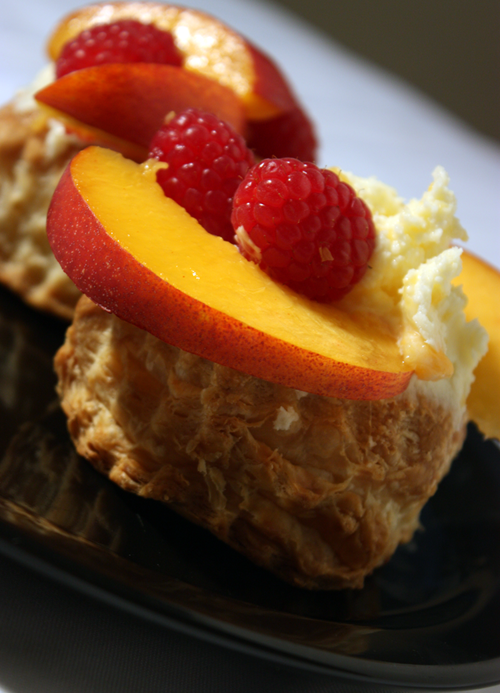 Once again with the raspberries, but soon the season will be over and I got a huge flat of them at Costco so I need to use them up.  This is an amazing filling and you could make the tarts with any fruits you have.   I adapted the recipe from one I found on BigOven.com. 
6 Puff pastry shells
1 1/2 c Heavy cream
6 ounces white chocolate melted
Peaches and raspberries (or whatever fruit you like) for garnish
Preparation 
Bake and cool shells according to package directions. 
In medium-sized microwave safe bowl melt the white chocolate and 1/4 cup cream on high, stirring and checking at 30 seconds, then at 15 second intervals until white chocolate is almost melted.  Stir until white chocolate is completely melted. Cool to room temperature. 
In chilled med bowl place remaining cream. Beat with mixer at med sped until soft peaks form. Fold half the whipped cream into white chocolate. Fold in remaining cream just until blended. If you like, you can fold about 1/4 cup of finely chopped peaches into the mousse mixture.  Spoon into shells and garnish with sliced peaches and raspberries. 
This can also be made with 4 ounces of regular chocolate instead of the white chocolate.